posted daily OVER THE NOON HOUR (CDT)
They built the world's largest
political sign

[OCT. 26, 2000]

Logan County can now lay claim to having the world's largest political sign.
---
Ecstasy: More than a warm
and fuzzy feeling
An illegal street drug
[OCT. 26, 2000] An educational seminar on the street drug most commonly called ecstasy was conducted Tuesday evening at the Lincoln Recreation Center. The seminar was sponsored by the Logan-Mason County Mental Health Department and the Alcohol, Tobacco and other Drug Task Force of the Health Communities Partnership as a part of their Red Ribbon Week.
---

[click here for top stories for the day from around the world]
---
Lincoln College's fall play, 'Dylan,' opens tonight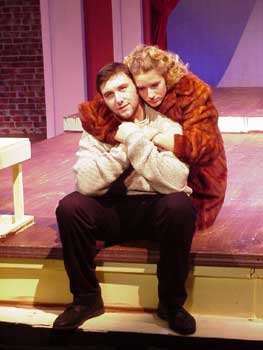 Dylan (Nick King of Lincoln) is comforted by
Caitlin (Robyn Theison of Alton) in a scene from "Dylan."
---
An interview by Jeff Mayfield
Former Railer leads Illinois College into playoff contention
Part 1
[OCT. 26, 2000] I have heard it said that you couldn't learn anything from being involved in a losing program. That if you play for a team that loses every game you are probably just wasting your time. John Allison couldn't disagree more with that kind of thinking. Playing for a Railer program that showed little success for all the efforts expended did not seem to faze Allison all that much. In fact, he says it made him appreciate the game of football all the more. The perseverance, the patience and the discipline made him a better player. And this season he has helped lead the Illinois College Blueboys to a 6-1 record at posting time. That might not give you visions of a national championship, but it is on pace to become the greatest record in IC history. John and I recently met in my office, while he was on fall break, to discuss the amazing season that he has helped put together.
---
LC men's soccer season ends with regional
[OCT. 26, 2000] Lincoln College's men's soccer team played Lincoln Land in Springfield yesterday in regional soccer competition. Lincoln Land won 1-0.
Lady Lynx conclude volleyball season
[OCT. 26, 2000] Lincoln College Lady Lynx participated in regional competition against John A. Logan yesterday. The final scores of the volleyball match were 15-7, 15-6 and 15-2 — a win for John A. Logan.
[sports report]
---
---
St. Louis neighborhoods
and eateries
Part 3
By Penny Zimmerman-Wills
[OCT. 26, 2000] St. Louis is a city of many faces. From the Hill's rich Italian heritage to the Victorian splendor of Lafayette Square, this city offers a variety of distinct neighborhoods to explore and enjoy. Today's posting features Grand, South Grand and
Tower Grove Park; Lafayette Square; and Webster Groves.
---
---
Writer would like to secure funding for District 27 now
---
Animals for adoption
---
---
Play at LCHS to feature Halloween safety tips
[OCT. 26, 2000] The Lincoln Community High School Thespian Troope #225 and the Lincoln Police Department will present an interactive Halloween safety program for community children on Friday evening, Oct. 27, at 6:30 in the LCHS auditorium. The play features Halloween safety tips in a 30-minute program featuring bright costumes, original songs and audience participation.
Sweet Adelines group welcomes young singers
[OCT. 26, 2000] Girls of junior high school through college age who enjoy singing are invited to visit a rehearsal of a local ladies cappella group on Tuesday, Oct. 31, from 7 to 9 p.m. at First Christian Church, 401 W. Jefferson in Bloomington. The singers in the group are seeking more young voices.
---
World/national news coverage
---
Hear it here!
The Faks Machine: Mike Fak and Jim Ash host a community call-in show. Their show airs on Lincoln Daily News over the Media One link every Wednesday night beginning at 7 p.m.
---