posted daily OVER THE NOON HOUR (CDT)

Fall back tonight!
set your clocks back one hour before going to bed!
---
ANNOUNCEMENTS
Neighborhood trick-or-treating hours set
The official hours for neighborhood trick-or-treating in Lincoln this year are from 5 to 8 p.m. on Tuesday, Oct. 31.
---
Lincoln plans for Halloween
Maple Ridge and Lincoln Park District host celebration
Maple Ridge Care Centre and the Lincoln Park District are preparing for their annual Halloween celebration. The celebration is open to children up through grade school and their parents. The care center and the local park district host these events so that children can meet Maple Ridge residents and because this event is safer than going from door to door.
The celebration begins at Maple Ridge Care Centre at 4 p.m. on Monday, Oct. 30. The care center will be decorated, the staff and residents will be dressed up in costumes, and children can visit various booths and the dining hall.
At 6 o'clock on the same Monday evening, the celebration will move to the Lincoln Park District, where festivities continue until 8 p.m. Children can collect candy and trinkets. Also, there will be a costume contest.
If you have questions, please call Maple Ridge Care Centre at 735-1538 or the Lincoln Park District at 732-8770.
---
Notice of Open Burn Code released by Fire Department
---
This week's question is...
[OCT. 28, 2000] "What are your feelings on the issue of building a new elementary and junior high school or renovating and adding to the existing structures?"
---
A day of living history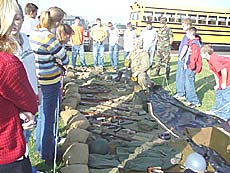 Area veterans teach students what it means
to be a free American
[OCT. 28, 2000] Stories were swapped and even a few tears were shed Friday as area veterans spent the day educating West Lincoln-Broadwell students about what it means to be a veteran.
---
ANNOUNCEMENT
Pre-election forum to be broadcast Oct. 30, 31
[OCT. 28, 2000] The Meet the Candidates forum that took place on Thursday, Oct. 26, at Adams School will be broadcast on Cable Channel 15. The meeting will be replayed on Monday, Oct. 30, at 7 p.m. and on Tuesday, Oct. 31, at 4 p.m. and 7 p.m.
At the forum, candidates for the 18th Congressional District and the Logan County Board made position statements and answered questions. Also, representatives of groups in favor of and opposed to the District 27 referendum debated the issue.
Hear it here!
Hear it on Monday, Oct. 30, at 7 p.m. and on Tuesday, Oct. 31, at 4 p.m. and 7 p.m on the Lincoln Daily News Media One link
---


[click here for top stories for the day from around the world]
---
Lincoln Park District announces
upcoming programs
[OCT. 28, 2000] Your Park District has a busy fall lining up for you. Click below for details.
---
Part 2
Halloween isn't just for
kids anymore
[OCT. 28, 2000] Adults everywhere are carving pumpkins, hanging black bats and white ghosts from porch ceilings, and attending or hosting bashes where they serve ghoulish concoctions and compete in costume contests.
---
It's news to me?
By Jim Youngquist
[OCT. 28, 2000] The entire news industry seems to be having a great cathartic struggle. It recently came to light as network television stations wrestled over what to do about the sagging, flagging and falling ratings for coverage of blockbuster news events such as the Sydney Olympics, the Republican and the Democratic national conventions. All three of these events were bombs for the networks. They lost viewers, they lost money and they believe they have lost face. The problem, they say, is that these events should no longer be regarded as news.
---
Jolly Seniors program to feature
'Saul for Senator' portrayal
[OCT. 28, 2000] The Jolly Seniors group from Lincoln Christian Church invites those 55-plus to attend their monthly meeting on Tuesday, Oct. 31, at 10 a.m. at the church Fellowship Center, 205 N. Hamilton St.
---
!!!Revival!!!
---
Court reports
[OCT. 28, 2000] The Law and Courts page includes weekly court reports, marriage licenses and dissolutions. The Lincoln Daily News does not list the names of the individuals unless convicted and age 18 or older.
---
World/national news coverage
---
Hear it here!
The Faks Machine: Mike Fak and Jim Ash host a community call-in show. Their show airs on Lincoln Daily News over the Media One link every Wednesday night beginning at 7 p.m.
---