posted daily OVER THE NOON HOUR (CDT)

---
ANNOUNCEMENTS
Lincoln plans for Halloween
Neighborhood trick-or-treating hours set
The official hours for neighborhood trick-or-treating in Lincoln this year are from 5 to 8 p.m. on Tuesday, Oct. 31.
---
Maple Ridge and Lincoln Park District host celebration
Maple Ridge Care Centre and the Lincoln Park District are preparing for their annual Halloween celebration. The celebration is open to children up through grade school and their parents. The care center and the local park district host these events so that children can meet Maple Ridge residents and because this event is safer than going from door to door.
The celebration begins at Maple Ridge Care Centre at 4 p.m. on Monday, Oct. 30. The care center will be decorated, the staff and residents will be dressed up in costumes, and children can visit various booths and the dining hall.
At 6 o'clock on the same Monday evening, the celebration will move to the Lincoln Park District, where festivities continue until 8 p.m. Children can collect candy and trinkets. Also, there will be a costume contest.
If you have questions, please call Maple Ridge Care Centre at 735-1538 or the Lincoln Park District at 732-8770.
---
Notice of Open Burn Code released by Fire Department
---
ANNOUNCEMENT
[OCT. 30, 2000] Vice presidential candidate Dick Cheney and the rest of the Illinois Republican team will be at the Gateway Building at the Peoria River Front tomorrow evening for a campaign rally. The Gateway Building is located at 200 NE Water St. The gates open at 4 p.m. Please call (217) 862-1000 if you have questions, or go to www.georgewbush.com.
---
ISAT tests show state educators are "raising the bar"
[OCT. 30, 2000] Parents of students in Lincoln District 27 will see the results of the new Illinois Standards Achievement Tests (ISATs) in social studies and science for the first time when report cards are sent to parents at the end of October, according to Superintendent Robert Kidd. The scores will show how the individual students performed compared to other students statewide.
---
Parent is interested in a ranking list for area schools
---
ISAT scores for Logan County
[OCT. 30, 2000] Detailed charts are posted. Click below.
---
Anti-violence skits
presented at schools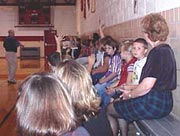 [OCT. 30, 2000] Every family has arguments, but these arguments do not have to end in violence. That is AmeriCorps' theme in "Hands are Not for Hitting, Words are Not for Hurting." Elkhart Grade School students saw the presentation Thursday morning. Mount Pulaski Grade School students and Central School students saw the presentation Thursday afternoon. Lincoln Daily News visited Elkhart Grade School to see the presentation.
---
School buildings declared eligible for nomination to National Register of Historical Places
[OCT. 30, 2000] The Central and Lincoln Junior High School buildings have been accepted for nomination to the National Register of Historic Places, according to information sent by the Illinois Historic Preservation Agency to the Save Our Schools Citizens' Committee.
---
Part 3
Halloween isn't just for
kids anymore
[OCT. 30, 2000] Adults everywhere are carving pumpkins, hanging black bats and white ghosts from porch ceilings, and attending or hosting bashes where they serve ghoulish concoctions and compete in costume contests. Today's posting tells about the history of Halloween.
---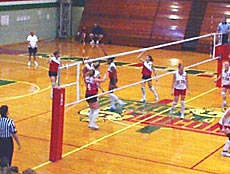 It's happening right here in Lincoln
Next up for Lady Railers:
Bloomington High
[OCT. 30, 2000] The Lincoln Lady Railers, fresh off their first regional title win since 1995, will host the Bloomington Purple Lady Raiders tomorrow night, Tuesday, Oct. 31, at 7:30 in the nightcap of the volleyball sectional playoffs at Roy S. Anderson gym.
Wooden bat team ends season
with 13-3 record
[OCT. 30, 2000] Lincoln's high school wooden bat team took a doubleheader from Pekin over the weekend and wrapped up its season with 13 wins and only 3 losses. Lincoln won 10-8 in the opener, making up an 8-5 deficit by scoring five runs in the fifth inning. It squeaked out the second game 3-2.
---
---
Logan County 4-H Achievement Night announced
[OCT. 30, 2000] Each year Logan County 4-H members, leaders and clubs receive recognition at Achievement Night for various accomplishments. This year, Logan County 4-H will have its Achievement and Recognition Night on Thursday, Nov. 2, beginning at 7 p.m. at the Extension Building on the fairgrounds.
Chester 4-H Club reports on recent meeting
[OCT. 30, 2000] Meembers of Chester 4-H Club met Oct. 15 in the Logan County Extension Office and installed leaders.
Lesson on yeast baking offered Nov. 9
[OCT. 30, 2000] A program called "Yeast Breads Made Easy" will be presented by Marion Cassens of Lincoln from 7 to 9 p.m. Thursday, Nov. 9, at the Extension Building on the northwest corner of the fairgrounds.
---
ANNOUNCEMENT
Pre-election forum to be broadcast Oct. 30, 31
The Meet the Candidates forum that took place on Thursday, Oct. 26, at Adams School will be broadcast on Cable Channel 15. The meeting will be replayed on Monday, Oct. 30, at 7 p.m. and on Tuesday, Oct. 31, at 4 p.m. and 7 p.m.
At the forum, candidates for the 18th Congressional District and the Logan County Board made position statements and answered questions. Also, representatives of groups in favor of and opposed to the District 27 referendum debated the issue.
Hear it here!
Hear it on Monday, Oct. 30, at 7 p.m. and on Tuesday, Oct. 31, at 4 p.m. and 7 p.m on the Lincoln Daily News Media One link
---


[click here for top stories for the day from around the world]
---
World/national news coverage
---
Hear it here!
The Faks Machine: Mike Fak and Jim Ash host a community call-in show. Their show airs on Lincoln Daily News over the Media One link every Wednesday night beginning at 7 p.m.
---