posted daily OVER THE NOON HOUR (CDT)

---
ANNOUNCEMENTS
Lincoln plans for Halloween
Neighborhood trick-or-treating hours set
The official hours for neighborhood trick-or-treating in Lincoln this year are from 5 to 8 p.m. on Tuesday, Oct. 31.
---
ANNOUNCEMENT
Pre-election forum to be broadcast
The Meet the Candidates forum that took place on Thursday, Oct. 26, at Adams School was broadcast on Cable Channel 15 on Monday, Oct. 30. The meeting will be replayed on Tuesday, Oct. 31, at 4 p.m. and 7 p.m.
At the forum, candidates for the 18th Congressional District and the Logan County Board made position statements and answered questions. Also, representatives of groups in favor of and opposed to the District 27 referendum debated the issue.
Hear it here!
Hear it on Tuesday, Oct. 31, at 4 p.m. and 7 p.m.
on the Lincoln Daily News Media One link
---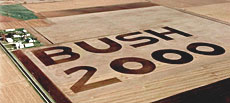 [Aerial view of world's largest political sign made by Middletown farmers Bill and Judi Graff]
---
County Board votes to buy bank property for additional space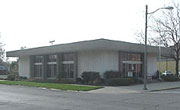 [OCT. 31, 2000] The Logan County Board, in two separate motions, voted unanimously Monday night to purchase the Union Planters Bank building at the corner of Pulaski and McLean streets.
---
Part 2
ISAT tests show state educators are "raising the bar"
[OCT. 31, 2000] Parents of students in Lincoln District 27 will see the results of the new Illinois Standards Achievement Tests (ISATs) in social studies and science for the first time when report cards are sent to parents at the end of October, according to Superintendent Robert Kidd. The scores will show how the individual students performed compared to other students statewide.
---
Full-time public school teachers 1996-1997
[OCT. 31, 2000] Today's new chart compares the number of full-time public school teachers in 10 Illinois counties, including Logan County.
---
Harvest of Talents yields
record high
Monies used worldwide for disaster relief
[OCT. 31, 2000] Saturday's 17th annual Harvest of Talents for World Hunger yielded a record high of $66,870.17. Announcement of the harvest proceeds was made during the unity service of Lincoln Christian Church on Sunday morning in the Earl C Hargrove Chapel at Lincoln Christian College and Seminary. Before presenting a check for the harvest proceeds to Richard Sprague, manager of International Disaster Emergency Service, Pat Snyder, harvest coordinator, noted that the amount presented to IDES on Harvest Sunday last year totaled $54,035.80. The millennium harvest total to date has far exceeded the '99 year-end total of $59,201.52.
---
Official City of Lincoln Christmas ornament unveiled

[OCT. 31, 2000] Main Street and the city of Lincoln have unveiled the design of this year's official Christmas ornament. As announced during this year's Historic Preservation Week, the 2000 ornament will feature Lincoln City Hall, complete with flag and signature telephone booth.
---
An alternative observance for Oct. 31
[OCT. 31, 2000] Trick-or-treating isn't on my list of personal experiences. Going door-to-door on foot wouldn't have been practical in our rural setting, and it wasn't the tradition at home or at school anyway. We had other opportunities to wear costumes and enjoy sweet treats. Programs at the end of each school year often included dressing up as characters in a story, and it was traditional to observe birthdays by handing out candy bars at school.
---
---
Museum to have Antique & Collectible Road Show-Fair
[OCT. 31, 2000] On the weekend of Nov. 17 and Nov. 18, the Mason City Historical Society will celebrate the first year anniversary of its museum's opening. This newest facility in the community is located at 120 N. Main St. in the downtown area. A gala reception will open to the public at 7 p.m. on Friday, Nov. 17, and run to 9 p.m. An Antique & Collectible Road Show-Fair will come to Mason City's Civic Center on Saturday, Nov. 18, to continue the celebration.
---
Renovation has drawbacks;
new construction can respect the past
---


[click here for top stories for the day from around the world]
---
World/national news coverage
---
Hear it here!
The Faks Machine: Mike Fak and Jim Ash host a community call-in show. Their show airs on Lincoln Daily News over the Media One link every Wednesday night beginning at 7 p.m.
---