NEWS

PEOPLE
COMMUNITY
ENTERTAINMENT
Crosswords - UPDATED!
FEATURES
The Arts
REVIEWS
EDITORIAL
COMMENTARY
ADVERTISEMENT
Classified Ads
Quick Coupon Clip-Outs


Register your name among the many others with the LDN User Registration!
LDN is best viewed with
Internet Explorer 5.0.
Lincoln, IL
posted daily aT NOON (CDT)
---
Grilling out this weekend?
[SEPT. 1, 2000] Nothing beats a backyard barbecue. Is it the aroma of smoked wood chips mingling with marinated meat wafting through the air? Or the sizzling sound of a slab of steak or salmon cooking over an open fire? Maybe itís the informality of cooking and eating in the great outdoors, where having a good time with friends and family is just as important as the meal itself.
---
TOP STORIES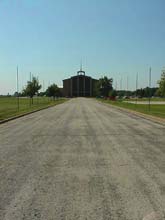 LCC/S impacts
community economy

[SEPT. 1, 2000] "Lincoln Christian College and Seminary is an economic engine worth nearly $15 million to the Lincoln area," according to a study presented to the college and seminary. Richard Miller, a specialist in higher education finance and research, prepared LCC/S' first-ever economic impact study. The results of the study were presented to the school in late July.
---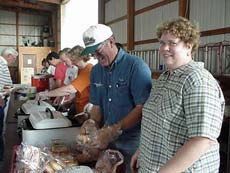 Lincoln Ag Center's Customer Appreciation Dinner
[SEPT. 1, 2000] Lincoln Ag Center had their annual Customer Appreciation Dinner on Thursday night. All of their customers, their landlords and suppliers showed up for the food and fellowship.
---
Gurga wins first place in haiku contest
[SEPT. 1, 2000] The winning haiku at the 2000 Midwest Buddhist Temple Ginza Festival Haiku Contest have been reported by the judges, Joseph Kirschner and Charles Trumbull. Working independently, each judge reviewed all 72 entries blind ó that is, not seeing the names of the authors ó and made his selection of the top haiku. They then met on Wednesday, Aug. 23, and to discuss the many fine entries, debate favorites and select the final list of winners. Lee Gurga of Lincoln won first place in the general category.
---
Summer slump in donations
New blood supplies urgently needed
[SEPT. 1, 2000] The Heart of America Blood Services Region is asking all eligible whole blood and pheresis donors to give the gift of life at this time. Donations during the summer are typically low; however, various factors have intensified a predictable summer slump in donations to the point where the blood inventory level is approaching a critical level. As of 7 a.m. on Sunday, Aug. 27, the Heart of America Blood Region had less than a one-day supply of blood on its shelves. In an effort to help increase blood collections, there will be a blood drive at Lincoln Sports Complex on Wednesday, Sept. 6, from noon until 6 p.m.
---
Jessie C. Eury Library hymnal collection goes online
[SEPT. 1, 2000] The Jessie C. Eury Library on the campus of Lincoln Christian College and Seminary is pleased to announce the debut of "Hymnals of the Stone-Campbell Movement: Enos E. Dowling Hymnal Collection" on their website at www.lccs.edu/library/hymnals. This online collection of more than 9,000 hymns from selected rare 19th-century hymnals features works by Alexander Campbell, J. T. Johnson, Walter Scott, and Illinois residents such as Barton W. Stone, Silas W. Leonard and the Fillmore Brothers. The Office of the Illinois Secretary of State and State Librarian Jesse White funded this project with a $34,000 digitalization grant.
---
Decatur group announces auditions for musical
[SEPT. 1, 2000] Theatre 7 will be having auditions for the first show of its 2000-2001 season, the romantic musical comedy, "She Loves Me." The cast will include seven principal male characters and two principal female characters, plus various other roles, for a total cast of 11 to 20. Audition dates are Monday and Tuesday, Sept. 11 and 12, at 7 p.m. at the Decatur Civic Center Theatre.
---
Texan responds to commentary
about liquor licenses, senior citizen programs
Newcomer wants to get acquainted with community issues
---