NEWS

PEOPLE
COMMUNITY
ENTERTAINMENT
Crosswords - UPDATED!
FEATURES
The Arts
REVIEWS
EDITORIAL
COMMENTARY
ADVERTISEMENT
Classified Ads
Quick Coupon Clip-Outs


Register your name among the many others with the LDN User Registration!
LDN is best viewed with
Internet Explorer 5.0.
Lincoln, IL
posted daily aT NOON (CDT)
---
Serious question for LCHS students
[SEPT. 2, 2000] The question is: "Who would you choose to be the next U.S. president and why?" Click below for responses from four LCHS students.
---
Part 2
Grilling out this weekend?
[SEPT. 2, 2000] There's no right or wrong way to grill and there are several ways to do it — including braziers, hibachis, kettle or wagon grills, and water smokers.
---
Going a different way
By Jim Youngquist
[SEPT. 2, 2000] Several months ago I noticed a survey crew, with transit and stick, out measuring and placing stakes along the road that I take to work. They seemed to be taking great care and a great deal of time as they moved some three blocks in about four weeks. Finally I noticed their painstaking efforts were over, and they were gone. In their wake were hundreds of short, orange-topped stakes that marked out plans for something.
---
TOP STORIES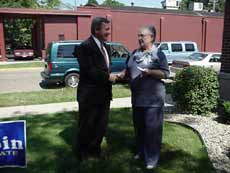 Senator Dick Durbin stops to visit Lincoln
[SEPT. 2, 2000] Lincoln had yet another distinguished guest stop in Friday. Lincoln Women's Club played host to Senator Dick Durbin as he stopped for a short visit about 2 p.m. on the warm afternoon. This was just one stop during his three-day visit to Central Illinois. Nancy Amberg, President of LWC and Chair of the Woman's Club Legislative Committee, has been planning this afternoon tea with the Senator for just over a year.
---
Church to host concert by 'Southern Brothers'
[SEPT. 2, 2000] On Friday, Sept. 8, at 7 p.m., the Lincoln Church of God is hosting a free concert featuring the "Southern Brothers." This group has had No. 1 hits on the gospel music charts, and you can catch their videos on ZTV daily.
---

Court reports
[SEPT. 2, 2000] Today the Law and Courts page includes a new set of weekly court reports. The page also includes reports from the Lincoln City Police Department and the Logan County Sheriff's Department. All citizens listed in the police reports are innocent until proven guilty by a court of law. The Lincoln Daily News does not list the names or exact addresses of the individuals unless convicted and over the age of 21.
---