By Sam Redding
Dreams of green
A challenge to those who would lead our city
[SEPT. 9, 2000] Our first house in Lincoln was on Union Street, a grand street with blocks of massive old houses, no two alike. Our children were small in our Union Street days, and when we put the baby in the stroller and took the crew for a walk, we usually sought out Park Place or Lincoln Avenue—streets with parkways (some people call them boulevards). The strips of vegetation down the middle of these two streets produce a calm, quiet, peaceful aura that is right for family strolls.
Now we live on Lincoln Avenue, and every day we walk our dog up and down the center parkway, through the dogwoods and crab apple trees. At night, the old-fashioned streetlights cast an orange glow against the leafy canopy that hovers over them. Traffic passes slower on these fair lanes. Neighbors mingle more easily, passing one another in their walks, stopping to chat. Maples and pin oaks and sweet gums enclose the brick avenues.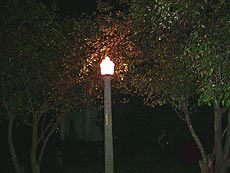 Wyatt Avenue, on the other side of town, like Lincoln Avenue and Park Place with its grass-and-tree meridian but unlike them in its largeness, carries the traveler from downtown to the high school, Friendship Manor and the recreation complex. Wyatt is a beautiful way to link these modern facilities on the outskirts with the older portions of the community.
Now for a bold proposal, one I hope some officeholder or aspirant for office will take up as a rallying point in a new, visionary campaign. Why shouldn't Union Street become all the grander with the addition of a parkway down its center? What a lovely path to our downtown! What if Kickapoo, Broadway and Logan were bedecked with grass and trees in their middles? What if Fifth Street became a boulevard? Lincoln could become the city of parkways, the boulevard community, with its main arteries made soft and serene with rows of green.
In most election years, our local contenders for mayor, seats on the City Council and positions on the park district board attempt to outdo each other by touting their keen scrutiny of the tax dollar. "I'll spend less than my opponent," says one. "I'll do less than the other guy," says the other. Niggardliness is the supreme characteristic put forward by those who would lead us.
Building parkways down city thoroughfares might cost a few bucks. Maybe it is an impractical idea. But who could possibly know? If we amortized it over 10 years, or even 20, would the result be worth the investment? If we can't project such a dream today, in our time of prosperity, how did our forefathers build our city's great boulevards in times of less privilege?
I'd like to see the figures. I'd like to see bold plans to dramatically improve our public spaces. I'd like someone to run for office with the facts and figures attached to dreams that would enable us, in the words of Emerson, to "hitch our wagons to a star." What think ye, LDN readers? Please let us know by responding to ldneditor@lincolndailynews.com. Thanks.