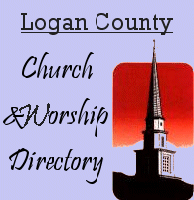 Lincoln Christian Church
204 N. McLean
217-732-7618
Preaching Minister:
Tom Gerdts
Worship:
8:30AM & 11:00AM
Trinity Episcopal Church
402 Pekin St., Lincoln
217-732-7609
Pastor: James Cravens
Worship:
7:30 & 9:45AM Sunday
9:00AM Tuesday-Friday

Immanuel Lutheran Church ELCA
1409 Pulaski St., Lincoln
217-732-6777
Pastor Joe Bleakley
Worship:
9:00AM Sunday

Zion Lutheran Church
Lutheran Church-Missouri Synod
205 Pulaski St., Lincoln
217-732-3946
Pastor Mark Carnahan
Pastor Kirk Cunningham
Worship:
8:00 & 10:30AM Sunday
7:00PM Wednesday
Radio, WLLM-AM 1370:
8AM Sunday
TV, Cable Channel 15:
10:00AM Sunday
5:00PM Monday
First United Methodist Church
302 Broadway St., Lincoln
217-732-2204
Pastor: Larry Maffett
Worship:
Sept-May: 8:30 & 10AM
June-Aug: 9:00AM
website: www.gbgm-umc.org/
lincoln1stumc/index.html
United Pentecostal Church
1422 Pekin St., Lincoln
217-732-4662
Pastor: David Mitchell
Worship:
10:45AM & 6PM Sunday
Sunday School:
10AM
Bible Study:
7PM Wednesday
To inquire about listing your congregation's worship information, please e-mail us at ldn@lincolndailynews.com or call us at 217-732-7443.
Church to host concert by 'Southern Brothers'
[SEPT. 2, 2000] On Friday, Sept. 8, at 7 p.m., the Lincoln Church of God is hosting a free concert featuring the "Southern Brothers." This group has had No. 1 hits on the gospel music charts, and you can catch their videos on ZTV daily. It is privilege to host this young men, and the church looks forward to seeing you there. For more information, call 732-8989.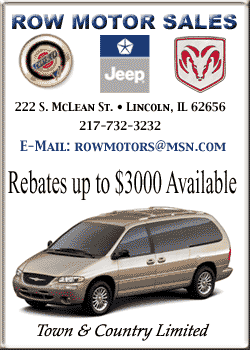 ---
Elkhart Christian Church celebrates 135 years
[AUG. 30, 2000] The Elkhart Christian Church will begin its 135th anniversary celebration on Saturday, Sept. 16, at 5 p.m. Miles Clark and Dan Huffine will be singing in the park. There will be free food for those who attend. The church will celebrate through the following Wednesday, with Bob Green preaching nightly and on Sunday morning.