Wooden Bat League competition
comes to Lincoln
[SEPT. 9, 2000] Prior to this September, Lincoln baseball fans could satisfy their yearning for the American pastime by focusing exclusively on professional baseball. Local summer leagues and the Little League World Series are history. This fall, however, something new has come to Lincoln: a wooden bat league. A team primarily of Lincoln High School baseball players has joined the "Second Season" Wooden Bat League.
As is clear from the league title, these young players must now discover what it's like to swing a wooden bat—something many have never done before. Their lightweight, expensive cryogenically-enhanced thin-walled metal bats must give way to heavier wood bats that can shatter with one swing.
The Wooden Bat League consists of 13 teams from a wide geographical area in central Illinois—including teams from Bloomington, Springfield, Dwight, Mattoon, East Peoria and Quincy. In its second year of operation, the league opened this season last Saturday with an exposure and evaluation day in East Peoria. Professional scouts and college coaches observed and evaluated young talent wanting baseball life after high school. Support from area colleges is evident, since most league games will be played on college diamonds as doubleheaders on Sundays.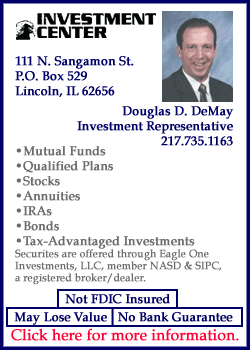 On Sunday the two-month fall competition began. Lincoln opened its season at Millikin University with two decisive wins over a Bloomington team. Lincoln led 7-0 going into the sixth inning of the first game and came away with a 7-3 victory. Lincoln had hits from eight different players, with two RBIs each from Derek Schrader and Andrew Bartman. Starting pitcher Chris Phillips pitched three innings, striking out eight, while giving up no runs, no hits and no walks. Matt Boyer and Jamison Sheley went the remaining four innings, allowing just three hits.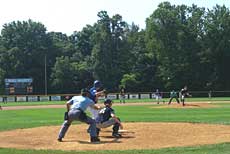 The second game was an 18-4 Lincoln blowout. Lincoln had 14 hits, with 10 different players having at least one RBI and scoring at least one run. Derek Schrader, Andy Knopp, and Jamison Sheley led the attack with three hits apiece. Justin Dedman threw the first three innings, holding Bloomington to one hit, no runs, and giving up three walks. Ryan Williams and Blake Schoonover each threw two innings, also giving up only one hit apiece.
The next game for Lincoln will be played at Lincoln Christian College at noon on Sunday, Sept. 17.
For box scores and more complete stats, see the following links:
[Rich Knopp]