NEWS

PEOPLE
COMMUNITY
ENTERTAINMENT
Crosswords - UPDATED!
FEATURES
The Arts
REVIEWS
EDITORIAL
COMMENTARY
ADVERTISEMENT
Classified Ads
Quick Coupon Clip-Outs


Register your name among the many others with the LDN User Registration!
LDN is best viewed with
Internet Explorer 5.0.
Lincoln, IL
posted daily OVER THE NOON HOUR (CDT)

---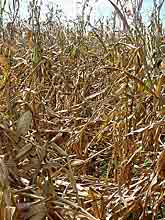 [SEPT. 12, 2000] Last night's strong winds wreaked havoc on Logan County cornfields. Some stalks are bent over while others are completely broken off, creating a challenging harvest ahead for local farmers. Logan County Extension specialist John Fulton says that some of the corn was already vulnerable because stalk rot and European corn borer feeding had severely weakened the stalks. Many hybrids are also known for cannibalizing the stalk to produce larger ears. All of these factors combined made it nearly impossible for the corn to withstand the strong winds.
---
Burglary at Daphne's
[SEPT. 12, 2000] There was a burglary last night at Daphne's Family Restaurant, 720 Woodlawn Road in Lincoln. Sometime between closing on Monday night and opening on Tuesday morning, unknown person(s) broke a window to gain entry into the restaurant. $150 cash was stolen. Lincoln City Police are continuing their investigation.
---
How are you getting along with your horseless carriage?
[SEPT. 12, 2000] Like a traveler specializing in side trips, I started by asking e-mail questions about the current prevalence of white vehicles, moved on to viewing specifications for several new cars and the results of safety tests on recent models, and unexpectedly arrived at a site dedicated to the Remember Bliss Campaign. The organization did not seek my vote, but suggested observing a moment of silence at 5:30 p.m. on Sept. 13.
---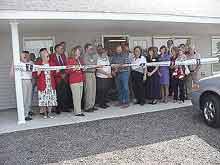 [SEPT. 12, 2000]

Friends, business associates and community leaders gathered Monday for a ribbon cut at the new University of Illinois Extension building out at the Logan County Fairgrounds. The new facility at the fairgrounds has access from Business 55 and the frontage road. The address is 980 N. Postville Drive in Lincoln.
---

[click here for more news from around the globe]
---
"I Dreamed of Africa"
[SEPT. 12, 2000] The title captures it all: It is a movie set in Africa about Africa. For some 80 minutes you, the viewer, are shown the beautiful sights of Kenya (Eastern Africa), from the rugged mountaintops to the broad savannahs to the stunning valleys. The cinematography in this movie captures some of the great beauty of life in Africa and presents it in its best form. There were scenes where the view took my breath away.
---
Conrady is awarded the
Helen Heiserman Scholarship
[SEPT. 12, 2000] Brett Conrady of Lincoln is this year's recipient of the Helen Heiserman Scholarship at Lincoln College.
---
Red Cross offers classes in September
[SEPT. 12, 2000] A Challenge Class will be offered on Saturday, Sept. 16, at the Logan County Red Cross office, 125 S. Kickapoo St. in Lincoln. This class gives an opportunity for those who have previously had CPR to renew their certification in adult CPR or infant and child CPR. A Community First Aid and Safety Class, which covers all CPR plus first aid, will be on Sept. 27 and 28 at the same location.
---
Law enforcement employees
[SEPT. 12, 2000] Today's new charts provide a comparison of the number of full-time law enforcement employees in police and sheriff's departments in 10 Illinois counties and cities.
---
Greg Schriber hopes to find old friends from Lincoln
[SEPT. 12, 2000] Hello Lincoln: I live in Liberty, Mo., just north of Kansas City. I left Lincoln around 1984 and spent some time in Montana and now here.
---
LDN is "a link to home"
---