NEWS

PEOPLE
COMMUNITY
ENTERTAINMENT
Crosswords - UPDATED!
FEATURES
The Arts
REVIEWS
EDITORIAL
COMMENTARY
ADVERTISEMENTS


Register your name among the many others with the LDN User Registration!
CONTACT US
LDN is best viewed with
Internet Explorer 5.0.
posted daily OVER THE NOON HOUR (CDT)
Beautiful, fresh fall-like weather made for an ideal Railsplitter Festival
---
Hear it here!
This Friday evening the football Railers play a home game vs. Jacksonville. You can hear the game right here on LDN via Media One Broadcasting system.
---
Mason City's Vic Wunderle bringing home precious Olympic silver

[SEPT. 21, 2000]

M

ason City has a new hometown hero, Victor Wunderle. The 24-year-old Mason City native is bringing home the Olympic silver medal in men's individual archery. Wunderle, a Texas A&M student, took time out and has devoted full time to working toward his Olympic goals for a year now.
---
LCHS announces homecoming activities
[SEPT. 21, 2000] Lincoln Community High School is having its homecoming this week. This afternoon there will be chalk drawings and volleyball games. Click below for more information on the homecoming activities.
---
District 27 board hears two sides
of new school issue
[SEPT. 21, 2000] The Lincoln School District 27 board heard a request Wednesday evening from a citizens group that wants to prevent tearing down Central Elementary and Lincoln Junior High schools. At the same meeting, the board also reviewed a memo from the architect hired to build the new schools, suggesting that the costs of renovation could be higher than the costs of the new construction.
---
Man loses life in collision on Old Rt. 66
[SEPT. 21, 2000] There was a fatal car accident yesterday on Lincoln Parkway. The driver of a 1993 Ford Escort is believed to have entered the northbound lanes near Tropics Restaurant and headed south. Two cars swerved around the Escort, but the driver of a Pontiac Grand Am could not. The two vehicles collided about three-tenths of a mile north of Fifth Street on Lincoln Parkway.
---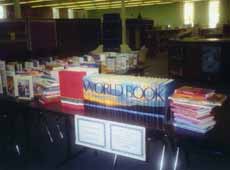 TEACHING & LEARNING
School library at NH-M gets grant funds
[SEPT. 21, 2000] Over the past year, the New Holland-Middletown (NH-M) School, with grades kindergarten through three located in New Holland and grades four through eight located in Middletown, has seen some vast improvements in their school library. As recipients of nearly $10,000 in grant funds, NH-M has been able to purchase new equipment including a computer scanner, printer, a telephone, answering machine, fax line and fax machine. The school has also updated their reference materials by adding a set of World Book 2000 Encyclopedias, Student Encyclopedias and Child Craft.
---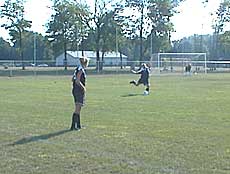 SPORTS TALK

Interview by Jeff Mayfield


LCC unleashes new sport:
women's soccer

[SEPT. 21, 2000] It's not very often that local colleges offer a new sport, but that's exactly what Lincoln Christian College has done this fall. They have unveiled women's soccer. And with a team peppered with local talent and coached by a man with loads of soccer experience, this team will not be content with just showing up. They want to compete and to win…now. That is hard to do in the world of collegiate athletics, but this team is determined to improve every time out. I met with LCC Coach Dan DeVilder in his home recently, and he gave me his take on his kickers…
---
Four games needed to decide LC volleyball match
[SEPT. 21, 2000] The Lady Lynx volleyball team of Lincoln College played four games in their match against Springfield yesterday. Home team Springfield won, but Lincoln College fought hard.
LC places ninth at Rock Valley Golf Tournament
[SEPT. 21, 2000] Earlier this week, Lincoln College participated in the Rock Valley Golf Tournament at Rockford. LC placed ninth out of 19 teams, with two-day scores of 323 and 324, to equal 647.
---

[click here for top stories for the day from around the world]
---