NEWS

PEOPLE
COMMUNITY
ENTERTAINMENT
Crosswords - UPDATED!
FEATURES
The Arts
REVIEWS
EDITORIAL
COMMENTARY
ADVERTISEMENTS


Register your name among the many others with the LDN User Registration!
CONTACT US
LDN is best viewed with
Internet Explorer 5.0.
posted daily OVER THE NOON HOUR (CDT)
Hear it here!
LCHS Homecoming football game: Railers vs. Jacksonville
You can hear the game right here on LDN
via Media One Broadcasting system.
Game time is 7 p.m. The broadcast begins at 6:45.
[click here to hear broadcast]
---
YMCA unveils new facility
Yesterday afternoon the Lincoln Area YMCA unveiled its new office and facilities at 319 West Kickapoo. The new ropes course demonstration was the main attraction.
---

[SEPT. 22, 2000] Welcome the fall season. A season marked with changes that leads our thinking and feeling about the imminent end of yet another season and another year. A time of endings warmed by rich, calming sights and smells that trigger warm melancholy feelings. Frisky fall breezes entertainingly twirl dry leaves and other debris into whirlpools, homecoming parades, games and dances, wiener roasts and hayrack rides, fields vacated with only stalk stubble and bean remnants, days begin closing in on us becoming shorter and shorter, pumpkin burning jack-o'-lanterns, colorful fall leaves drenched in freezing cold rain deepen in color, Thanksgiving family turkey dinners are strongly anticipated, relaxing to football games on TV, decaying leaves' fragrance greets walkers (with full tummies). Then, in its fullness, thoughts turn to picking out a Christmas tree and other cheerful activities as a new season comes into view.
---
Downtown businesses to be
honored for renovation projects

[SEPT. 22, 2000]

W

hen Main Street Lincoln has its Harvest Fest on Saturday, a ribbon-cutting will help celebrate the renovation of a number of downtown businesses. The ceremony to mark the building renewal program will be held at 9:30 a.m. on the south lawn of the Logan County Courthouse.
---
Lots to do in Lincoln Friday and Saturday,
Sept. 22 and 23
Downtown Renovation Celebration
---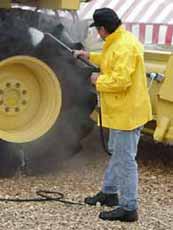 RURAL REVIEW
Farm Progress Show 2000 Preview
Three days of exhibits and entertainment at Logan County's back door
[SEPT. 22, 2000] A city is under construction where corn and soybeans once stood. Next week in rural Cantrall, Ill., the Farm Progress Show 2000 will open its gates to thousands of guests from across the Midwest. More than 400 exhibits featuring the newest agricultural technology and slices of rural life will offer a little something for everyone, even if you're not from a farm.
---
Weekend review of fall festivals
Special events for every taste
Pumpkins, apples, pork, persimmons and more
[SEPT. 22, 2000] The days at the local swimming pool are a faded memory. The crisp, clean air means sweater weather is just around the corner. Ushering in the new season, trees will soon turn autumnal shades of red and gold, and pumpkins have already started popping up on every front porch in town.
---
TOP STORIES
Woodlawn Cafe fire begins in kitchen
[SEPT. 22, 2000] A fire ignited yesterday afternoon in the kitchen of the Woodlawn Café at 926 Woodlawn Road. The blaze started at the fryers, exterior grease caught fire, and flames spread throughout the kitchen and part of the dining room.
---
Update on youth injured in auto accident
[SEPT. 22, 2000] In yesterday's paper, we covered a story of a head-on collision on Lincoln Parkway on Wednesday afternoon. At the time we reported that 19-year-old James Dullenty's condition was unknown. Dullenty was moved out of the Intensive Care Unit this morning and is in stable condition at St. John's Hospital in Springfield.
---
New Holland celebrates 125th anniversary
Early settlers come to New Holland area
[SEPT. 22, 2000] Although settlers came to the Sheridan Township area much earlier, the village of New Holland was not laid out and surveyed until 1875. Oliver Holland and his wife, the former Amanda Huffman, laid out the first parcel of land, composed of only four blocks, for the present village.
---
Council votes raises
for three city posts

[SEPT. 22, 2000]

R

aises for three city employees

—

the mayor, the treasurer and the city clerk

—

were approved by the Lincoln City Council at its regular meeting Monday evening. The raises, the first in 11 years, will see the mayor's pay go from $10,000 to $12,000, the treasurer's pay from $3,000 to $5,000, and the city clerk's pay from a starting salary of $32,000 to a starting salary of $37,000.
---
Lady Lynx play five-game match in close loss
[SEPT. 22, 2000] Lincoln College and Carl Sandburg played a full five-game ladies volleyball match yesterday at Lincoln College. Only a couple points decided each of the games.
---


[click here for top stories for the day from around the world]
---
---