NEWS

PEOPLE
COMMUNITY
ENTERTAINMENT
Crosswords - UPDATED!
FEATURES
The Arts
REVIEWS
EDITORIAL
COMMENTARY
ADVERTISEMENTS


Register your name among the many others with the LDN User Registration!
CONTACT US
LDN is best viewed with
Internet Explorer 5.0.
posted daily OVER THE NOON HOUR (CDT)

Harvest Fest
[click here for pictures of the Harvest Fest at Scully Park on Saturday]
---
It's National Dog Week Sept. 24-30
How to find the perfect
canine "best friend"
[SEPT. 25, 2000] It's National Dog Week! If you've been contemplating adding a puppy or a dog to your family, there is much to consider to ensure that your new canine companion that will be a good fit — both for your family and for your lifestyle.
---
New Holland celebrates 125th anniversary
Fire destroys store, bank robbed twice
[SEPT. 25, 2000] An outstanding business in early New Holland was the L. Burchett and Son mercantile store. After being destroyed by fire in 1885, the store reopened at the corner of Lincoln and Mason streets. It carried a large stock of goods, including dry goods, men's suits and coats, shoes for everyone, carpets, furniture, dishes and even Wedgewood china.
---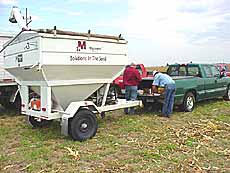 RURAL REVIEW
Corn plots and county yields
[SEPT. 25, 2000] With the fall comes a ritual that is commonplace throughout Central Illinois. That is the corn plot and the associated field day. Logan County has had a commercial corn plot since 1983, when the local Extension Office co-sponsored one on college property with the Lincoln College Agribusiness Club. After the loss of the ag program at Lincoln College, Jim Brown of Beason became a plot cooperator for several years.
---

[click here for top stories for the day from around the world]
---
Car fire
[SEPT. 25, 2000] On Saturday afternoon, at the 119 mile marker near Broadwell on Interstate 55, a 1989 GMC van caught on fire. The owner, Robert L. Skala of Creve Coeur, Mo., was able to pull the van off the highway onto the shoulder and exit the vehicle. He was not injured. Lincoln Rural Fire Protection District was notified of the fire at 4:05 p.m. Nine firemen came to the scene, with two trucks from LRFPD and one truck from Broadwell. It took only about 15 minutes to get the fire under control, but firemen spent about an hour with the van. The cause of the fire is unknown at this time. There was a total of $5,000 damage to the van and its contents.
---
Man arrested as sexual predator
---
Sponsors needed for Festival of Trees
[SEPT. 25, 2000] The Festival of Trees Committee is seeking businesses, organizations and individuals to sponsor Christmas trees, wreaths and swags. The lavishly decorated items will be displayed at the festival in the Logan County Courthouse from Fri., Nov. 24, to Sun., Dec. 3. Sponsors' names will be publicized at the festival, where 3,500 attendees are anticipated this year.
---
LC volleyball team meets Vincennes
[SEPT. 25, 2000] On Saturday, the Lincoln College ladies' volleyball team lost to Vincennes 1-15, 3-15, 12-15.
---
Hear it here!
The next Railer football game is at Springfield on Friday, Sept. 29.
You can hear the game right here on LDN
via Media One Broadcasting system.
---
This week LDN is going to the dogs! We will bring you dog stories, dog tips and doggone good health advice. If your dog likes to read, show him Lincoln Daily News this week!
LDN will also provide you with more Farm Progress Show reports in Rural Review, and more about that little historic community due west of Lincoln, our 'Good Neighbors,' New Holland.
---