posted daily OVER THE NOON HOUR (CDT)
Harvest Fest
[click here for pictures of the Harvest Fest on Saturday, Sept. 23, at Scully Park]
---
New Holland celebrates
125th anniversary this weekend
---
From the "New Holland Pictorial History: 1875 Ė 2000"
Floods, fires and storms strike New Holland
[SEPT. 30, 2000] The village of New Holland, like other communities, has had its share of natural disasters over the years. A sleet storm in 1924 downed many trees. In 1931 a heavy snowstorm made travel impossible. Another heavy snow in 1960 canceled school and ballgames. In 1972 and 1978, ice storms cut off power and phone service.
---
THE HALLWAY BUZZ
The question is...
[SEPT. 30, 2000] "What do you think about prayer in school and at sporting events?"
---
Farm Progress Show 2000
As a Beason farmer saw it
[SEPT. 30, 2000] LDN asked farmer-reader Dave Sasse of Beason to record his thoughts and impressions of this year's Farm Progress Show. Dave and his family take their camper to the Farm Progress Show almost every year. Here is what the Farm Progress Show 2000 looked like in the eyes of a Logan County farmer.
---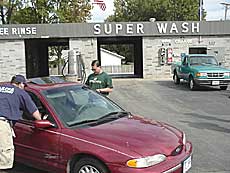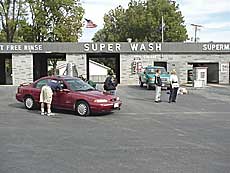 [Lincoln Rural Fire District fund-raiser carwash takes place all day today at
Super Wash, 624 Woodlawn Rd. Get your car washed today and support the Rural
Fire Department. $1.00 out of every $2.00 will go to LRFPD.]
---
Mason City gets ready to celebrate
homecoming of Olympic medalist
[SEPT. 30, 2000] Mason City is planning two celebrations to welcome home Victor Wunderle, their hero of the Olympics. Wunderle earned a silver medal in menís individual archery and a bronze medal in the three-man team archery competition of this yearís Olympic Games in Sydney, Australia.
---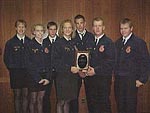 RURAL REVIEW
Hartem FFA team wins at state event
[SEPT. 30, 2000] For the third consecutive year a Hartsburg-Emden FFA ag issues team has won the state FFA Ag Issues Career Development Event.
---
The Olympics: What makes us cry?
And how does it bode well for Logan County?
By
Sam Redding
[SEPT. 30, 2000] Letís analyze that rivulet of salty water that tends to retrace its path down your cheeks each time you watch an Olympic event. Follow it to its source in your eye, then locate the duct of its origin, then isolate the nerve that triggers the duct to release its liquid load. Backtrack along the nerve, through its nodes and synapses to a spot in the brain where the first electric impulse was charged by a thought. What thought?
---
Mistakes doom railers to defeat
[SEPT. 30, 2000] As a teacher I know that repetition leads to memorization. If that is true, then the Railers will always remember two things about last night's game: the name of Springfield High School's Ulexis Williams and the word "turnovers".
---
A map to the Field of Dreams site
---

HOME AND FAMILY
It's National Dog Week Sept. 24-30
[SEPT. 30, 2000] Jason Nichols and his family have "gone to the dogs," and I say that as the highest possible compliment!
---
Court reports
[SEPT. 30, 2000] The Law and Courts page includes a new set of weekly court reports, marriage licenses and dissolutions. The Lincoln Daily News does not list the names of the individuals unless convicted and age 18 or older.
---


[click here for top stories for the day from around the world]
---
---
---
Hear it here!
Next Friday, Oct. 6: Lincoln Railer football at SH-Griffin
Listen to the game over LDN via Media One Broadcasting.
---