Kristen Janicki, visiting equine educator, will be the presenter. Kristen will discuss the importance of forages in a horse's diet, the abundance of grains available for horses with greater energy or protein needs, and the different characteristics each brings to meet the horse's requirements. In addition, Kristen will explain the basic nutrients necessary for an excellent nutrition program and what to consider when formulating a diet for your horse, including the use of body condition scoring to evaluate your feeding program.
Entomology roundtable
Dr. Kevin Steffey will be with us on Feb. 11 to participate in an entomology roundtable discussion. The program, beginning at 1:30 p.m. and concluding at 3:30 p.m., will be at the Extension office. Preregistration is requested and may be obtained by calling the office at 732-8289.
Steffey will be able to provide information on potential problems in 2002 with western corn rootworm, soybean aphids, B.t. corn and the implications, and address other discussion topics.
A similar roundtable discussion a few years ago focused on B.t. corn events and the Star Link potential and problems. It seems like a crystal ball must have been in use!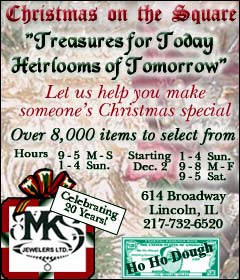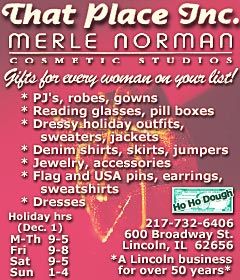 Illinois tillage conference
A statewide conference with the theme "Tillage & Nutrient Management for the Future: Advanced Concepts" is scheduled for Tuesday, Feb. 12, at the Interstate Center in Bloomington. The program, featuring state and nationally known speakers, runs from 8:30 a.m. to 3:30 p.m.
Preregistration is necessary and the deadline is Tuesday, Feb. 5. Seating is limited, so registration will be taken on a first-come basis. A $15 fee per person will be charged to cover room rental and the noon luncheon. Please make checks payable to McLean Co. SWCD and send to McLean Co. SWCD, 402 N. Kays Drive, Normal, IL 61761, with the following information: IL Tillage Conference, your name, address, phone number and county of residence.
Extension office holiday schedule
The Extension office will be closed over the holidays, with reopening set for Jan. 2. The staff wishes you and your family a joyous holiday season.
The following table contains many of the more requested figures. For the non-farm clientele, these rates represent the actual cost for performing the operation on a farm.
These figures are the actual costs of operation including power, machine, fuel and labor. The figures are based on fuel costs of $1 per gallon (and even though fuel prices are higher, they won't significantly affect the cost!) and a labor cost of $12.50 per hour. There is nothing included for management.
| | |
| --- | --- |
| Operation | Cost of operation |
| Coulter chisel plow | $10.80 per acre |
| Moldboard plow | $20.70 per acre |
| No-till planter | $ 8.80 per acre |
| Planter | $ 7.90 per acre |
| Rotary mowing | $ 8.60 per acre |
| Anhydrous ammonia application | $ 7.60 per acre |
| Combining corn | $27.70 per acre |
| Combining soybeans | $23.10 per acre |
| Using grain cart | $ 3.85 average per acre average (Iowa data) |
| Grain hauling with truck | $ .068 cents per bushel average (Iowa data) |
The new library was opened and dedicated this fall. Its completion signifies a wholeness that has previously eluded the ag college campus, as it has always been in a temporary state of waiting for needed buildings or resources of its own. Many local people have been contributing toward its development for many years.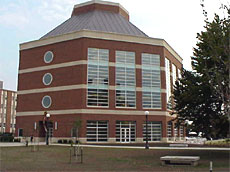 Name three great U of I influences in Logan County. If you say the Fighting Illini, University of Illinois Farm Extension Services, agriculture education and development, you are not only talking about the interests of many Logan County residents but also the combined passion of one particular man, Frederic B. Hoppin. Hoppin not only contributed financially but also gave many years of dedication and involvement as an alum.
A 1941 U of I ag grad, the late Fred Hoppin served as Logan County's University of Illinois farm adviser and Extension agent from 1949 to 1956. Following that time he moved into the real estate business as his primary occupation until his retirement. His ties with agriculture and U of I remained strong.
"Fred was a loyal Illini. Even when in real estate his main interest was in agriculture," says Ruth, his wife, who is a steadfast and true Illini alum also.
He and two partners, Roy Hatch and Red John Pace, were area forerunners in breeding by means of artificial insemination. He held leadership positions in both cattle and pork industries, starting dairy herd and swine herd associations.
Some of Hoppin's most outstanding contributions were as a supporter of U of I. With the growing ag campus needs in the 1970s, Hoppin was asked by the president of the alumni association to head up the new building program, "Food for Century III." He had the job of influencing legislators to assist in matching funds with the alumni association for $88 million in new and updated agricultural buildings on the campus. The project took 15 years and included the relocation of the College of Veterinary Medicine.
He received the honorary "I" from the athletic association. Ruth Hoppin fondly recalls that before there were televised games, football games were filmed. The films were brought over after the games and local fans, known as the Quarterback Club, would gather together to watch them.
Hoppin had many other U of I awards and distinctions, but the Exceptional Service Award that was bestowed on him in 1984 by the Agricultural Alumni Association summed up the values of his contributions, as the award was created just for him.
It took 15 years to raise the funding for the new building project. In January of 1998 the state of Illinois signed a grant matching the alumni funds. However, Hoppin did not get to participate in the fall groundbreaking, as he passed away in August of 1998. The alumni room in the new facility has been dedicated in honor of Frederic B. Hoppin and Ruth H. Hoppin.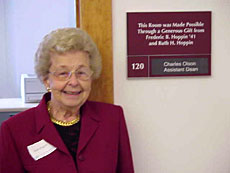 Hoppin was one of many local supporters. Other Logan County residents and close neighbors noted for their generous contributions to the library are as follows:
The Ralph and Ada Allen family
The Isaac Funk family
George and Ruth Brauer
William M. and Starr L. Hull
Russell L. and Mary W. Jeckel
Rod Stoll
Donald D. and Martha C. Zimmerman
Delmar B. and Martha Z. Zumwalt
A little history
In 1862 Abraham Lincoln signed the Morrill Bill, which authorized the creation of land grant universities. The signing of this bill brought the University of Illinois, first called the Illinois Industrial University, into being.
While this is the third library location, it is the first time a building intended for use as the library has been built. The first library was established when the courtyard of the Agriculture Hall was roofed over in 1912. Though it was to be only temporary, the library was moved in 1924 to its most recent location, Mumford Hall.
Long overdue, the new library consolidates a lot of collections and valuable holdings that have been scattered in different locations on campus. Students, researchers and teachers will no longer have to go running around searching numerous locations for periodicals and literature that relate to the agricultural field. It now provides the agricultural community with highly valued, field-specific informational resources all in one location. Not only is educational and research information now centrally located, but it also hosts related offices and provides meeting places.
The ACES Library, Information and Alumni Center has been nicknamed the "jewel" of the agricultural campus. The title is bestowed because the beautiful, hexagonal building takes the shape of a gem, particularly from an aerial perspective. To a person looking down on its slightly sloped and angled roof sections with a small flat center, it appears jewel-faceted.
Following is information shared by Extension educators in the horticulture program to help you in the process of selection through care.
Selection
• Buy Christmas trees early in the season.
• Consider purchasing Christmas trees from a choose-and-cut farm.
• The sooner you can get the tree home to a constant source of water, the fresher it will stay.
• Fresh trees should have pliable needles, a fresh evergreen aroma and firm needle retention.
Transportation
• Protect the tree on the drive home. Wind rushing through the tree can cause it to lose valuable moisture.
• Cover trees tied on top of the car or in an open trunk.
Preparation
• If you won't be putting the tree in its stand right away, store it in a place out of the wind and freezing temperatures. Make a fresh cut on the butt by removing 1" of the trunk and place in fresh water.
• Remove 1 inch of the stump when bringing the tree indoors.
• Immediately place the tree into a stand that holds at least one-half gallon of water.
Location
• Avoid standing the tree in front of large windows that expose it to sun and heat.
• Avoid placing near furnace register vents and fireplaces. This exposes the tree to heat that leads to rapid moisture loss.
Watering
• Keep the water level above the base of the cut at all times. Check water level daily.
• A fresh tree will use one-half to two gallons of water the first day it's brought inside.
• A fresh tree may soak up a quart or more of water per day.
• If the cut base dries out, the sap will harden and the tree will not take up any more water.
• Water additives such as aspirin, sugar or flame retardant are not necessary.
Safety
If you have made a fresh cut on the base and the tree no longer takes up water, it has lost moisture below a critical level and will never regain its freshness. Remove this tree from the house. A tree in this condition will burn.
Horticulture websites
Horticulture is everyone's agriculture. To help you keep up on some of the current information, here are several links to University of Illinois websites:
The Solutions Series is designed to provide information on topics in foods and nutrition, consumer and family economics, as well as horticulture. Sources of information include the University of Illinois, United States Department of Agriculture and other land grant universities.
http://www.ag.uiuc.edu/~robsond/
solutions/solutions.html
For a copy of the Home, Yard & Garden Pest Newsletter, click on http://www.ag.uiuc.edu/cespubs/hyg/
The Hort Corner has lots of good information: http://www.urbanext.uiuc.edu/hort/index.html
Kids Link has horticulture information for children: http://www.urbanext.uiuc.edu/kids/index.html
Jananne Finck, nutrition and wellness educator with the University of Illinois Extension, will present information about the selection, preparation, storage and service of grain products for your meals. She is a registered dietitian based at the Springfield Extension center.
Finck will discuss the role grain plays in a nutritious diet and cover the planning of meals to include breads, cereals and other dishes using grain products. Information on safe methods of handling grain products will also be reviewed. Tasting will be encouraged.
Anyone interested is invited. Contact the Logan Extension office for preregistration, which is due Jan. 10, one week before the program. There is no fee to attend. For more information and to register ahead, please call the office at (217) 732-8289.