A new addition to the 2001 show was the Ranch Showcase, featuring supplies and accessories specific to Illinois horse farms. The Agri-Business Showcase was expanded for 2001, featuring more products and services to help farmers better manage their daily operations. Displays ranged from computer software and Internet sites to marketing services, telecommunications, insurance and finance.
The Case IH booth featured a display of MX 200, MX 240 and C 50 tractors.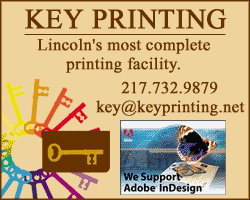 Other Central Illinois Ag news
Planter/sprayer meetings
Central Illinois Ag hosted their seventh annual Kinze planter and Hardi sprayer meetings on Tuesday, Jan. 9, at the Atlanta store. Close to 70 farmers attended the presentation given by Ron McKiernan Strauve of Kinze Corporation. A pork barbecue meal followed.
After lunch, Phil Stoltz, representing Hardi Corporation, talked about maintenance, repair and calibration of their product. A question and answer session followed.
[Central Illinois Ag news release]
Clinic for pesticide applicators
The second Private Pesticide Applicator Clinic for Logan County is scheduled for Tuesday, Feb. 20, at the University of Illinois Extension meeting room. The session will include training on the safe use of pesticides, reading pesticide labels, application of equipment, environmental concerns and other topics. Dayle Eldredge, of the Rural Health Partnership, will begin the program by speaking about first aid kits for farmers and the Agribility Project. Training will begin at 8:30 a.m.
After the training session, the Illinois Department of Agriculture will administer the test for Certified Private Applicator. Passing the test, along with payment of a $15 fee, will allow individuals to purchase and apply restricted use pesticides on ground that they own or operate. Testing should be concluded by about 12:30 p.m.
Attendance at the session will also qualify for Worker Protection Standards Training Certification for farm employees. Individuals needing this certification need only attend the session, but not take the exam.
Preregistration is required for anyone wishing to attend. To register or receive further information, please contact the Extension Office at (217) 732-8289 or send e-mail to fultonj@mail.aces.uiuc.edu.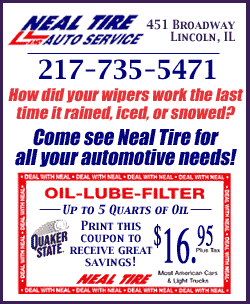 Opportunity to grow specialty grains
I have recently received an opportunity for producers interested in growing organic specialty grains and oilseeds. The growers do need to have acreages certified organic and maintain organic production in the crop production. This may be an opportunity for producers with CRP acreage contracts that expire on plots that haven't had pesticides or fertilizers used on them for several years.
Crops and prices being offered by Clarkson Grain are as follows: U.S. No. 2 yellow corn for feed ($3.10), U.S. No. 1 soybeans for feed ($10.50 with no cleanout) and food grade ($12-$18), U.S. No. 2 soft red winter wheat for feed ($4), and also U.S. No. 2 milo (call for market). These prices are picked up on your farm.
If interested, contact Clarkson Grain Company at 1-800-252-1638 or send e-mail to cgi@one-eleven.net.
For the second year, Logan County Ag Day sponsors will provide two academic scholarships to Logan County students.
Applicants must be from Logan County and currently study or plan to study agribusiness or an agricultural science at a community college or four-year institution. High school seniors through Ph.D. candidates can compete for the two awards. Selection will be based on the students' commitment to agriculture as a future career, academic performance, involvement in extracurricular activities, financial need and work experience.
Applications are available from Logan County FFA advisers and the Farm Bureau office. They are due back in the Logan County Farm Bureau office by Thursday, March 1.
Ag Day 2000 scholarship winners were Chad Yagow and Derek Struebing, both students at the University of Illinois College of Agriculture, Consumer and Environmental Sciences.
[Ag Day news release]
Topics include "Reducing and Preventing Soil Compaction," "Hypoxia and Water Quality Issues," "Watershed Planning," "Soil Health Research Update," "Soil and Hydrology Basics," "Farm Drainage Law," and the new "Water Quality Regulations."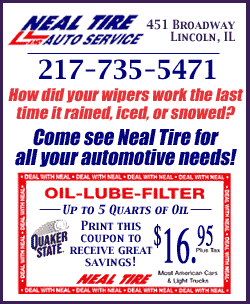 Advance registration is $35 per person to include lunch and materials, while walk-in registration is $40. Advance registration is requested, as meetings may be canceled if fewer than 20 people have registered one week prior to the meeting date. Checks should be made payable to University of Illinois Extension. The office address is 980 N. Postville Drive, Lincoln, IL 62656.
Shepherds telenet series
Logan County will be offering the Shepherds telenet series this year, with the first session beginning on Monday, Jan. 8, and continuing on Jan. 22. Both sessions will be offered over the voice teleconferencing equipment and will feature both industry personnel and U of I Extension specialists. You may just attend the sessions, as others have preregistered to participate. For more information, contact the local office at 732-8289.
Grain Marketing — Global Challenges and Local Opportunities (value-added production)
On Jan. 23 at the Northfield Center in Springfield, Extension is sponsoring a value-added conference dealing with corn and soybean production. The session will begin at 8:50 a.m. and conclude at 3:30 p.m. This workshop is a result of the value-added survey work done in many of our counties during the summer months.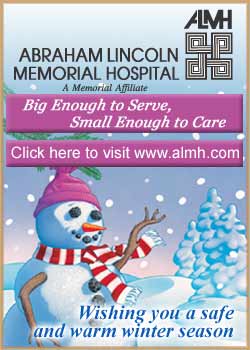 Topics will include "Asian Marketing Outlook," "European Market Outlook," "Mexico and New Atlantic Markets," "Transgenic Crops in Global Markets," "Marketing Alliances," "Ag Guilds," "Biomass Processing," "Factors Affecting Value-Enhanced Grain Marketing Opportunities," "Which Specialty Crops are Most Profitable?" and a panel discussion including producers and grain handlers.
Registration in advance is required, but there is no cost. You may make phone reservations by calling the Sangamon County Extension Office at (217) 782-4617. For copies of the agenda, including mail-in reservation information, contact the Logan County office.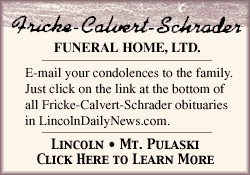 Ice dams
For information on ice dams, their causes and cures, see the link below.
Extension on the web
While we're at it, there is a growing request for information related to ag economics, especially the cost-of-operation information (referred to by many as custom rates). A great site to get third-party information is the Farm.doc site with the URL http://web.aces.uiuc.edu/farm.doc/. This site is from the College of ACES at the University of Illinois.