Lincoln Daily News.com
601 Keokuk St.
Lincoln, IL 62656

TEL: 217-732-7443
FAX: 217-732-9630

Lincoln Daily News publishes daily news about the Lincoln/Logan County area on the Internet at www.lincolndailynews.com. (We are not a print publication.) All subscriptions are free!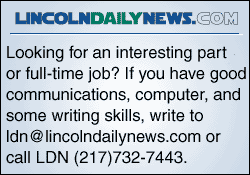 Our mission:
The mission of Lincoln Daily News is to tell the stories of Logan County in a contemporaneous manner, with lively writing and a predilection for simple truth fairly told. Lincoln Daily News seeks a relationship with the good people of Logan County that is honest, neighborly and never patronizing. Lincoln Daily News presents news within a full context that contributes to understanding. Lincoln Daily News is more interested in the marketplace of ideas than the competition of personalities. Without shrinking from the bold delivery of unvarnished fact, Lincoln Daily News operates from the premise that God's creatures deserve the presumption of right motive. Lincoln Daily News eschews malice and cynicism; it approaches every person with dignity and every subject with equanimity. In short, Lincoln Daily News informs, stimulates and entertains.
Content:
The articles published in Lincoln Daily News are the result of research and interviews. Any opinions expressed are those of the writers.
Corrections:
Please contact us by phone, fax, mail or e-mail with any information about mistakes, typos or erroneous information. If the error is in an item which is still in the paper, we will correct it online immediately. All corrections will be shown on the "Corrections" page.
Our services:
Lincoln Daily News provides daily news, sports, features and commentary on Lincoln, Logan County and the surrounding area.
To promote local businesses, we offer display advertisements at very reasonable rates, and links to business websites. Call (217) 732-7443 or e-mail ads@lincolndailynews.com.
"Happy ads" are a special feature to enable our readers to celebrate birthdays, graduations, anniversaries and other good news. Call us for details.
For employment information, contact Lincoln Daily News at their offices.


Our staff:
Managing editor: Jan Youngquist ldneditor@lincolndailynews.com
Copy editor and writer: Mary Krallmann
mkldn@lincolndailynews.com
Technology assistant: Don Buckner
donbldn@lincolndailynews.com
Partners, managers, writers [click here]
---
Colorado reader likes school articles
1-31-01
Dear editor:
Congratulations on your one-year anniversary. Since my family and I moved to Colorado Jan. 2, we have kept up on Lincoln news through your publication. It is very well-written, very user-friendly and gives us a taste of home.
Of course, I especially like all the positive articles on the local schools. Anything about Washington-Monroe will always be dear to my heart. Keep up the praise for all the kids in "your" community.
Again, happy anniversary! We will continue to view your publication.
Debbie Pettit
Highlands Ranch, Colo.
---
1-31-01
To the editor:
I would like to thank the men who contacted us regarding our lost dog, Lexie. Lexie was found in Lawndale because of your calls. She was tired from her two-day adventure, but unharmed. I enjoy knowing there are caring "dog lovers" in our community. Thanks again.
Lisa Feese
---
Hello, Lincoln, from Albuquerque, N.M.
1-30-01
To the editor:
I would like to wish your newspaper a happy anniversary. Hope you have many more to come.
I was saddened to see the Scully Building burned. This was one of my favorite buildings. The popcorn shop was the only place to go to get a good bag of popcorn. The pet shop was where our dog Dusty got all his toys to play with while we were in town for the Lincoln Art and Balloon Fest. These stores and the building will be missed. Hopefully the stores can be relocated, as they are my favorite stops in downtown Lincoln.
We will see everyone in August.
Jerry Garcia
---
1-30-01
To the editor:
Jan, to you and the rest of LDN staff, I can say (for myself) that this has been a very informative year for those who surf to LDN. Seeing the good things you have done, the articles you print and not being afraid to print letters from those who wish to express their opinion, I, for one — and I know there are many more — wish you continuing success into this age of cyberspace news. Up-to-date reporting and a fair and balanced attitude with no bias means so much these days. People may disagree on numerous subjects, but that does not mean hate is intended, nor does it mean we can't love our neighbor....
To you and you staff, my hat is off to you —
C O N G R A T S.
George A. McKinney
Pharr, Texas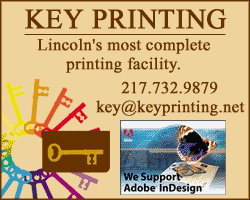 ---
1-30-01
To the editor:
Thanks so much for picking up my story about the adoption of Iris. I feel it is important to get positive stories in the media about animal adoptions. There are far too many animals waiting for homes they may never get.
I love the photos you post on your site of the dogs and cats at our local shelter. Keep up the good work.
Kitty Pokrzywinski
---
1-26-01
To the editor:
Congratulations on your recognition and award at yesterday's Healthy Community Partnership's "Report to the Community." It is well deserved! Many of us definitely consider Lincoln Daily News to be a very important partner in our work to improve the quality of life in Logan County.
Lloyd Evans
Administrator, Logan County Health Department
---
1-25-01
To the editor:
We support electing Logan County Board members at large — our present system — over the proposed system of electing members from districts. We believe changing to the district system would promote and foster non-accountability by allowing elected officials to vote and act on issues vital to the interest of the public, yet be subject only to the voters in their own districts and not to the rest of the registered voters in Logan County.
Under the present system of electing county board members at large, all of the registered voters of Logan County have the right and opportunity to vote the rascals out if the elected officials do not perform to our standards. Under the proposed district system, your vote, along with the vast majority of the other registered voters of Logan County, would be denied, because we would only be allowed to vote for or against a candidate from our district.
We are equally concerned with the prospect of the voters of Logan County giving up our right to select each and every Logan County Board member if we change to the district system.
Representation without accountability could reflect in little or no representation at all. Our only control over elected public officials comes from the threat of voting the rascals out. Districts would prevent the majority of the voters from making this happen.
Les Van Bibber
---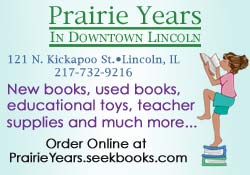 ---
1-25-01
To the editor:
Thank God for people like Fak, and kudos to whoever was responsible for posting the JPG images on your site. Pictures of the people and the community are what is necessary to keep us coming back to your site and supporting your advertisers.
Love your site,
Clint
---
Please send your letters by e-mail to ldneditor@lincolndailynews.com or by U.S. postal mail to:
Letters to the Editor
Lincoln Daily News
601 Keokuk St.
Lincoln, IL 62656
Letters must include the writer's name, telephone number, mailing address and/or e-mail address (we will not publish address or phone number information). Lincoln Daily News reserves the right to edit letters to reduce their size or to correct obvious errors. Lincoln Daily News reserves the right to reject any letter for any reason. Lincoln Daily News will publish as many acceptable letters as space allows.