Mahomet packs a lot of punch for its size — with a handful of antique shops, restaurants, a covered bridge, outdoor activities and a history museum. It's a wonderful place to shop and have lunch if you're on your way to Champaign, but it's also worth the drive just for an afternoon getaway. Granted, there probably isn't enough to keep you occupied for a weekend trip or even a long day, but it's a perfect place to spend the afternoon. It's the perfect antidote for stressful living. If you yearn for a place from the past where there is no hustle and bustle, the people are friendly, the pace is a little slower, and the homemade pies are fresh out of the oven — this is your place.
Yearly calendar of events
Late March — Spring open house in shops on Main Street
Spring — Chamber of Commerce Community Action
Late June — Mahomet Festival with rides and special events
Fourth of July — Freedom Fest, activities and fireworks at Lake of the Woods County Park
August — Sangamon River Music Festival
Fall — Harvest Fest and Scarecrow Contest
December — Old-fashioned Christmas Walk, Main Street
History
Settled in 1832 on the banks of the Sangamon River, Mahomet is the oldest community in Champaign County. Now a rural residential community with thriving business areas, Mahomet was originally called Middletown because of its location halfway between Bloomington and Danville. Sometime during the 1840s or 1850s, people discovered there were two Middletowns in Illinois — the other in Logan County. The history books claim the name Mahomet was arbitrarily assigned in Washington, D.C. to the former Middletown's post office.
Water and timber were the natural resources which drew early settlers — from Indiana, Ohio, Virginia, Pennsylvania and Kentucky — to the area. Before the settlers came, the Kickapoo and Pottawattamie Indian tribes inhabited the land.
Mahomet has grown by leaps and bounds during the past five decades, helped in part because of its proximity to Champaign and the University of Illinois. The village grew from a population of 1,986 in 1980 to 3,103 in 1990, and the projected population for 2000 is 5,620.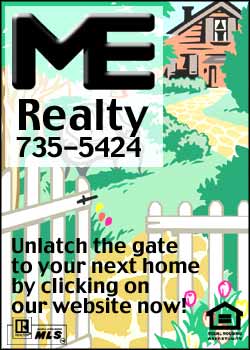 Lake of the Woods/Early American Museum/Botanical garden
One of the most beautiful features of the Mahomet area is Lake of the Woods Park. Located among rolling and wooded hills, it's a nice contrast to the surrounding flat farmland. This popular park occupies almost 900 acres along the corridor of the Sangamon River.
The park features a popular 18-hole regulation golf course; a nine-hole, par-3 course and practice range; a swimming beach; fishing; boating; boat rentals; hiking; picnicking; cross-country skiing; sledding; a Hi-Tower bell carillon and observation area; the Early American Museum; and Mabery Gelvin Botanical Gardens.
A nice way to see the park is by taking a walk or bike ride along the new 3.3-mile pedestrian path. Don't miss the two beautiful bridges — a rustic covered bridge which stretches across the Sangamon River and a footbridge connecting the swimming area and boat dock. The footbridge is an exact replica, built to one-twentieth scale, of San Francisco's Golden Gate Bridge. The brick high-tower observation area gives a great view of the landscape. The tower is one of the most impressive and recognizable features in the park. For three decades, visitors have climbed the six-story structure, named after the founder of the forest preserve district, the late H.I. Gelvin.
Once you get a little exercise and a healthy dose of nature, make a visit to the Early American Museum, also located in the forest preserve. Housed on two floors are interpretive exhibits detailing 19th and early 20th century life in east-central Illinois and the Midwest. Exhibits offer a glimpse of architecture, agriculture, trades and occupations, decorative arts, and childhood and domestic life of the past. The Discovery Room offers hands-on opportunities for children and includes a Civil War tent, an 1830s general store, games and educational toys.
The botanical garden is a delight for the senses. Currently under construction is a new enabling garden in the Mabery Gelvin Botanical Gardens. When completed, it will feature a small footbridge, a series of raised planters providing accessible gardening space, a mixed border of shrubs and perennials, native grasses, a shaded arbor, and a waterfall. The features of the garden include raised beds to make gardening easier for people in wheelchairs and the elderly who have limited mobility and have difficulty dealing with gardening at ground level; sensory features, such as fragrant herbs and flowers and falling water; shade; and accessible surfaces for wheelchairs.
The Chicago Botanical Garden has supported the development of the garden as the first of its kind in central Illinois and held its 1999 spring symposium on horticultural therapy at the forest preserve in honor of the proposed garden project.
Facts about Mahomet
Established: 1832
Original name: Middletown
Major employers: District 3 Community School, Roberson Transportation Company, Carle Clinic, Busey Bank of Mahomet, Urban Sand and Gravel, Mid America Sand and Gravel, and Mahomet IGA
Population: 4,200
Location: Western Champaign County, approximately 1 hour from Lincoln. Take Route 10 through Clinton to I-72 E, IL-47 Exit 73 toward Mahomet.
Number of motels: 5
Number of restaurants: 10
Shopping/Main Street
There are 11 unique shops in town, offering everything from English jams and pewter jewelry to primitive furniture and nature books.
Most of the antique shops are located on Main Street in a one-block area. One of my favorites is Willow Tree Antiques, located at 421 E. Main. Not only is this shop housed in a wonderful old building, but it offers unique architectural pieces; walnut, mahogany, oak, pine and cherry furniture; pottery; tin ceiling tiles; glassware; china; silver; linens; and textiles. On a recent visit, there were huge sections of a salvaged tin ceiling hanging on the brick walls, a green leather art deco bar, and a vintage red-and-white quilt for sale. The upscale country and Victorian furniture shop also does appraisals.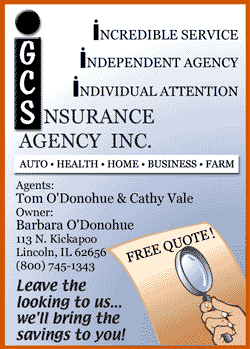 Victorian House, located at 408 E. Main St., offers not only antiques but also stained glass supplies and artwork, and many gift items, from picture frames and clocks to teapots and jewelry.
Other stores worth visiting are Earth Sight, a shop filled with nature and science games, toys, jewelry, and other items; Carolyn Kay's, filled with Victorian-style gifts and food items such as flavored pastas, sauces and gourmet candy; and Main Street Mercantile, housed in a 300-square-foot historic 1896 gallery of early country primitive antiques, cabin collectibles, antiques, Christmas items, wool blankets, twig furniture and painted furniture.
Other shops include The Framery, which provides custom picture framing and sells artwork by local and national artists; Harold Ponder's rocking rooster, a cane shop which sells antiques; and Iron Horse Antiques, which sells antiques, collectibles, pedal cars and antique toys.
Although I love antiques, I love gardening even more. So I am very glad I discovered Mourning Dove Farms, my favorite shop in Mahomet. Tucked away on a slight slope on the east edge of town on Route 150, this is the place to go for ideas and inspiration for both decorating and gardening. The business prides itself on offering the unusual plants and garden essentials, and it accomplishes both goals. The shop is filled to the brim with an array of topiaries, large-leafed ivies, candles, crystal, garden tools, pottery, original watercolors by local artists and other gift items. An outside area is full of concrete urns and stone containers. The business also sponsors popular garden trips and is currently planning a 12-day tour of the gardens, historic castles and the Hampton Court Flower Show in England this summer. The business sponsored a two-day trip to the Cincinnati Flower Shop last spring.
The English Hedgerow, located on Main Street, is another favorite stop. This quaint flower shop is filled with a changing selection of fresh flowers from around the world. Owner Helen Philpott, a native of Sussex, England, makes original floral designs in the traditional English style of Constance Spry, the floral designer for the wedding Queen Elizabeth II. The shop also specializes in traditional English hand-painted metal house signs made in its own foundry. The shop also offers British imports, such as walking sticks; Dartington crystal; fortnum and Mason and Beatrix Potter pewter jewelry and picture frames; original artwork; Vera Bradley handbags and luggage; scented, beeswax and hand-dipped candles; garden pots; and English jams and candy.
Make sure and take a break from shopping to have lunch. I highly recommend stopping at The Seatery, located in a very old building on the corner of Main Street. The building, with creaky old wooden floors and a painted tin ceiling, is part antique shop, part clothing store and part old-fashioned soda fountain. The decor — a funky blend of old Formica tables, stacked suitcases, wooden chairs and modern art — resembles discarded family furniture. There's even a green toilet just casually placed along one wall, across the room from hand-painted silk scarves for sale. But it's the food that keeps customers coming back. Local business shop owners, high school students and tourists of all ages gobble down the homemade blackberry cobbler, root beer floats and sandwich plates. On a recent cold, wintry day, my mom and I enjoyed chicken noodle soup and blackberry cobbler with ice cream.
Another good option for food is the Pickle Tree Farm, a renovated New England post-and-beam barn located on Prairieview Road that offers shopping and eating under one roof. Candles, soaps, gifts and clothing are for sale, alongside homemade pies, deli sandwiches, ice cream and jams, mustards, sauces, and of course, pickles. Try the Pickle Tree deli sub, with salami, lean roast beef and turkey, served on a corn-dusted, fresh-baked roll with Swiss cheese, tomato, lettuce and mustard. All the sandwiches are tasty, and the dessert case, filled with brownies and pecan pies in the morning, is usually empty at the end of the day.