NEWS

PEOPLE
COMMUNITY
ENTERTAINMENT
FEATURES
The Arts
REVIEWS
EDITORIAL
COMMENTARY
ADVERTISEMENTS


Register your name among the many others with the LDN User Registration!
CONTACT US
LDN is best viewed with
Internet Explorer 5.0.
Saturday, January 06, 2001 posted daily OVER THE NOON HOUR (CDT)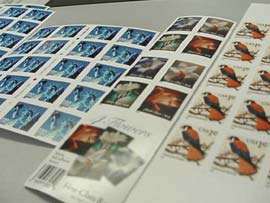 Lance Rogers of Shirley, formerly of Atlanta, buys a sheet of one-cent stamps from Postmistress Jane Baize at the Atlanta Post Office Saturday morning. Others were lined up to buy one-cent stamps as well as the new 34-cent first-class stamps. The 34-cent stamps on sale now have pictures of the Statue of Liberty and of exotic flowers, while the new one-cent stamps have pictures of the kestrel.
---


THE HALLWAY BUZZ

Boys basketball results
Mount Pulaski vs. Hartsburg-Emden
Illini Central vs. Williamsville
Lincoln vs. Springfield Lanphier
Hear it here!
Satuday, Jan. 6
Lincoln Railsplitters play Taylorville at Taylorville.
Varsity game starts at 7:45 p.m.
sponsored by Mitchell-Newhouse, J&S Auto Centre, and Gleason's Dairy Bar










---
Friday's news: