Insight Communications of New York, N.Y., has finalized an agreement and purchased the Logan County cable system as well as other Midwest systems in a divestiture from the purchase of MediaOne by cable giant AT&T.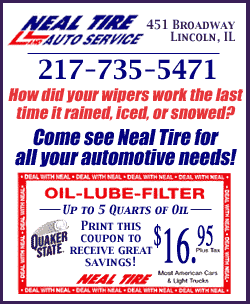 The move, in the works for several months, brought an end to speculation and rumor regarding the end owners of our local cable system.
Insight, a cable operation that is the eighth largest in the United States, is concentrated primarily in the four contiguous states of Illinois, Indiana, Ohio and Kentucky, and now has a 1.4 million subscriber base with the new purchases in Illinois that include Springfield and Lincoln.
According to Kim Kelly, vice president of Insight, the addition of some 530,000 customers in this area will allow Insight Midwest to increase services to all their clients within the next year. The company specializes in offering bundled, state-of-the-art technology in mid-sized communities, delivering analog and digital video, high speed data and, in the near future, voice telephony to its customers.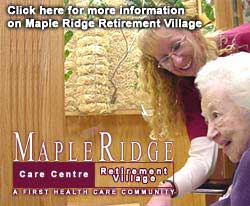 Bill White, local cable manager, has stated that all employees and their expertise have been retained by Insight and that nothing current cable subscribers are comfortable with will change. The fact that Insight is geared toward second-tier markets will in fact increase cutting edge technology to be available to Lincoln residents sooner rather than having to wait for a mass cable operator to employ such technology in larger markets first.
To underscore Insights' involvement in smaller markets, Kim Kelly explained what benefits are just around the corner for Illinois cable subscribers:
"We are pleased to announce that Insight Digital continues to be deployed throughout various service areas, adding a whole new element to home entertainment. This means enhanced video and audio, electronic program guides, as well as expanded premium and pay-per-view services. Insight also is the first cable operator to offer DIVA's video-on-demand service, OnSet, as part of a digital platform. With OnSet, trips to the video store become a thing of the past…OnSet offers hundreds of movies by genre, actor or alphabetically by title, and the selection appears instantly! Since OnSet stores the film digitally, viewers even have the capability to pause, rewind and fast forward."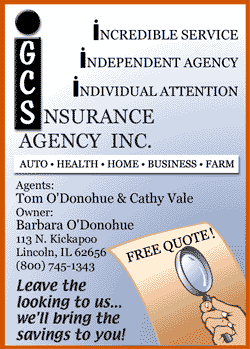 Insight has stated that many of their forward-thinking ideas will be available within the year to subscribers throughout their base.
Insight, listed on Nasdaq under ICCI, also owns Insight Midwest, which, with co-owner AT&T, will be the controlling company for central Illinois. This joint venture will allow Lincoln cable subscribers to have cutting edge technology available in home entertainment without having to wait for other larger markets to be serviced first. Insight is interested in communities such as Lincoln, and the chance to be in the forefront of home entertainment technology should be exciting for all of us.
[Mike Fak]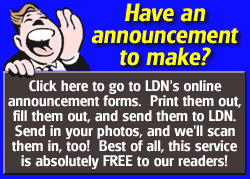 Happy New Year!
• MORNINGS ON MAIN — Tuesday, Jan. 9, 8 a.m. at Sorrento's, 521 Broadway St. Coffee, rolls and a chance for you to share your ideas with others concerned about downtown Lincoln. Everyone is welcome!
• ANNUAL MEETING — Monday, Jan. 22, 7 p.m. in City Council Chambers (second floor of City Hall). Acknowledgement of accomplishments, voting on new board members and officers by current Main Street partners, plans for the new year. Come and get in on the action!
• LOOKING FOR LINCOLN MASTER PLAN MEETING — Wednesday, Jan. 24, 7 p.m. in the second floor conference room at Union Planters Bank, 303 S. Kickapoo. Are you interested in economic growth through heritage tourism? This is the group that's making it happen! Join us!
• ECONOMIC RESTRUCTURING COMMITTEE MEETING — Wednesday, Jan. 31, 5:30 p.m. in the Lincoln Public Library Annex Conference Room. Are you concerned about the wide-open spaces in our downtown retail environment? Then this is the group to get involved with! We're developing a plan of action to fill the vacancies and revitalize the area. Creative thinkers with a positive attitude needed.
• MAYORAL FORUM AT MORNINGS ON MAIN - Tuesday, Feb. 13, 7:30 a.m. (note the time change) at Sorrento's. We've invited all mayoral candidates to join us and present their ideas and views on downtown Lincoln. In preparation, we're asking YOU to write down and send your suggested questions to Main Street by Feb. 1. You may mail them to 303 S. Kickapoo, fax them to 735-9205 or e-mail them to manager@mainstreetlincoln.com. Questions will be sorted for duplication and the most relevant chosen. Each candidate will have the opportunity to address each question selected. No questions will be accepted from the floor; therefore, if you want to address a topic, you must send the question in advance. If you think the mayor has an impact on downtown, now is the time to find out the candidates' views so you can make the best decision in the voting booth.
• AS ALWAYS, Main Street Lincoln is working with you to make downtown a great place to work, shop and socialize. Got a suggestion? Call us at 732-2929.
[Wendy Bell, program manager]