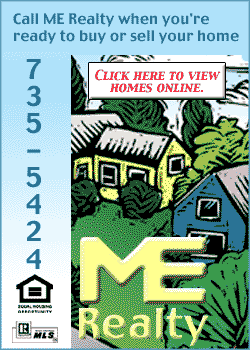 The Nasdaq, only an economic skeleton of what it was a year ago, shows that faith in high-tech stocks has eroded to the point of many companies falling off the exchange and folding their tent. A huge retailer like Montgomery Ward going out of business after a century tells us the market is either diluted or too weak to sustain all the players interested in the major retailer game. Lucent Technologies dropping upwards of 10,000 jobs shows that even successful businesses are finding the need to cut employees. Motorola closes a five-year-old plant in Illinois and gives pink slips to 2,500 employees. Heck, thatís enough of this already.
Locally, we have had our share of economic bad news. Staples closing as well as Stage on Woodlawn will leave a huge retail location vacant. MII literally chopping their workforce down to nothing means area workers face an unknown job future. Eaton has stated that voluntary cutbacks for at least six weeks are now part of their economic plan. It looks like Lincoln/Logan County is not immune to the whims of a national economy. It also tells us that an economic window of opportunity this past decade ó a window that this area failed to become a major participant in ó has perhaps closed. Economic slowdowns, of course, carry universal repercussions. Just because we didnít take much of a part in the ďboomĒ period does not mean we wonít be unwilling participants in a slowdown or possible recession.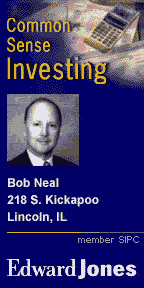 So what do we locally to make ourselves ďrecession proofĒ? That is an easy question to answer. All we need do is direct our efforts to the strengths we already have in this community. They are, in no special order, as follows:
We need to seek out small factories and make sure the ones we already have are receiving all the support we can give. Small factories are better for our economy than huge corporate giants. MII is cutting 80 percent of their workforce, and the effect on those people laid off will be telling. Imagine what would happen to a city like Peoria if Caterpillar would cut 80 percent of their workforce. You might as well bring a shovel up to the Peoria area, because such a catastrophe would bury that areaís economy.
I lived in Pekin in the late 1970s, and the near-year-long Caterpillar employee strike had a disastrous effect on every business in the valley. Peoria and East Peoria learned their lesson well. There are now hundreds of little widget factories in the area, making the economy sound by its diversity.
Rule No. 1: Many small factories are better than one or two large ones. Seek out new ones. Support the ones we already have.
We need to recognize recession-proof entities and help them to grow. The headlines have been filled with the fact that both Lincoln Christian College and Lincoln College are growing. Education is not subject to the whims of the stock market. Education, especially specialized courses and college degrees, are growing in importance regardless of whether the economy is positive or negative We need to do all we can to make sure these colleges as well as Heartland continue to be positive about investing in growth in our community. Donít think that Champaign-Urbana and Bloomington-Normal donít realize how important their schools of higher learning have been to their stability and economic growth.
Rule No. 2: Educational entities are solid economic opportunities. They deserve our maximum support.
Finally, and perhaps most importantly, we need to recognize and support the small businesses in our area. You know the ones I am talking about. They are the ones who buy your organization's pizzas and candy bars. They are the ones who buy an ad in your pamphlets and on your calendars. They are the ones who sell your raffle tickets and contribute to the many charitable events we have in this community. They are the businesses that donít tell you to write to the corporate office about being a school booster. They are the ones who say sure, put me down as a supporter.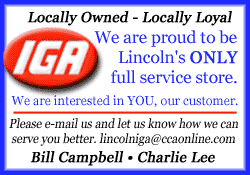 These small businesses are owned by individuals you know personally. Their little stores and shops dot our economic landscape and cause jobs and taxes to flow into our economy. They are the same as us ó little guys trying to make a living. They base their decisions on being in business on one simple business tenet. They will stay here and remain in business if they can make enough money to earn a living.
Unlike a corporate giant like Staples, small businesses fight off slow times as long as they can. They donít make their decisions to close up or leave Logan County because their profit doesnít meet national guidelines. They decide to remain our merchants as long as they can afford to stay. Look at the small businesses in Lincoln that have closed. Every one of them hung on as long as they could. Most stayed in business until there was no possibility of viability. Ask a Penneys or a Sears or even a Wal-Mart if they will do that. I promise you their answer is no.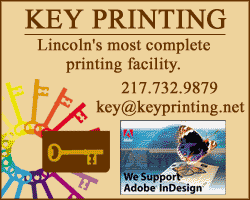 Rule No. 3: Support small business. Without small business, a community is subject to the whims of giant corporate America.
I could turn this article into a short story or probably even a book, but this is the crux of my feelings on the economy in Logan County. Sometimes when problems in our personal lives look the bleakest, we find the solutions are right in front of us. Look at the end of your nose this week. There are many good things, special things right down the block from where you live. Iím talking about the businesses we already have. Support them. Itís our turn to help. In effect we will be helping ourselves.
[Mike Fak]
The Lincoln Daily News is 1 year old. I would like to congratulate all the people involved with bringing us a community-responsive venue that is quite different from any other known to Logan County residents. The LDN is a source of news about community activities and events that, quite frankly, are not covered as heavily, if at all, in other area newspapers. That isn't to say LDN is correct in their approach to community news or that others are wrong. It simply means LDN is different in its approach to local news, and that is what has caused readership to grow. You see, being different isn't good or bad. Being different is just being different.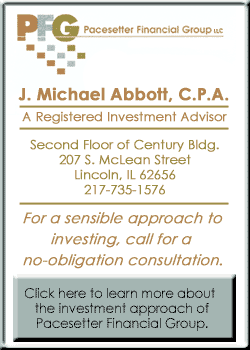 In a day and age when national stories are being covered by thousands of papers and hundreds of radio and television stations, the LDN finds no need to be redundant with such information. In a day and age when tragedy, scandal and hype make headlines in the news, the LDN decides to tell us what events have occurred or will occur that are of importance to local residents, without any need to make us feel they need to create a shock value to their stories.
I personally, with the assistance of the Internet, read about 20 different newspapers a day. I find little need to continually be deluged with a sad tale regarding the failings of humanity. I have often found the positive stories offered by the Lincoln Daily News as a mental bandage to remind me that everything in the world isnít as screwed up as we think it is.
Another thing I really appreciate is that stories that carry two sides are presented to us only when both sides have an opportunity to respond to the issue. I have yet to read a story in this newspaper that states, "So-and-so could not be reached for comment." I like that omission a great deal. The LDN does not feel any need to break a story before someone else does. They seem more interested in finding out what happened and what everyone thinks happened before they post. Television especially could learn a lesson from this good habit the Lincoln Daily News seems to have.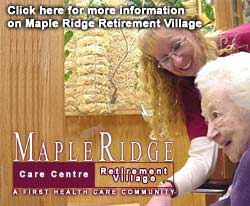 This isnít to say LDN doesnít tell the tale of important events in our area. There were some great pictures of the Scully Building fire, as well as information on the blaze and its aftermath. You may have noticed that the information concerning possible arson on the fire was stated and then left for another day. It seems, at least to me, that the Lincoln Daily News is waiting for information to become available before they print the story. I like that. The problem I have noticed with many news articles is that they are too often filled with conjecture and innuendoes that by their nature may end up not being as factual as one would hope. The LDN seems more pressed for accuracy than they are for time.
The Lincoln Daily News is by no means perfect. Just like you and me, they have a ways to go before obtaining perfection. In the event you read the LDN on a regular basis, you may have noticed that they are continually evolving, and that is a good thing in my mind. They need to develop a classified section, and they need to expand their local story base. These events will occur with your continued support as well as the continued increase in businesses willing to advertise with the Lincoln Daily News. You see, a newspaper that is free to its subscribers relies totally on community support. With this support, the sky is the limit for this truly hometown newspaper.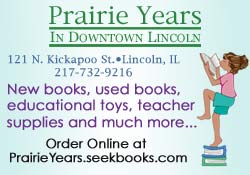 I hope at least a few of you think that the addition of myself to their stable of writers is a positive aspect to the growth of this paper. I hope I will bring a little edge to this tabloid that will promote thought and correspondence with you, the readership. That may be important to this newspaper, because they have been doing such a good job of trying to be objective and honest and positive in their stories that an old curmudgeon like myself in the opinion age might be a good change of pace. If you canít get mad at the reporters because they are being factual and objective, you still will have Mike Fak to chew on a little bit.
That ought to be fun.
[Mike Fak]