RIF is a program that works to encourage the love of reading in children by providing them with free paperback books. In Lincoln and Logan County, the Lincoln Community High School Library Club has sponsored this program for local fourth graders for the past 16 years. Students from LCHS accompany RIF committee members to the schools three times during the spring semester. Each fourth grader receives one free paperback book per visit. At each distribution, there is also a program to spark the children's interest in reading. Programs have included an author speaking to the children about writing books, drama groups presenting skits on reading, movie adaptations of children's books, storytelling and a variety of other activities.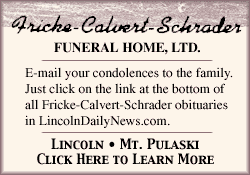 RIF provides this program without cost to all the elementary schools in the Lincoln Community High School district.
The program receives no government funding. The 2000 distribution cost over $2,100, all raised from local sources. Book prices are going up, and the 2001 distribution will require additional funding. There are no administrative costs. All the money is used to benefit our Logan County students.
The RIF committee asks you to consider supporting this program financially.
If you are willing to contribute this year, please make your check payable to Lincoln Community High School and mail it to the attention of LCHS librarian Marilyn Maffett. Your contributions will be added to the contribution made yearly by the LCHS Library Club.
Thank you for your consideration and support.
[Reading is Fundamental committee:
Pat Schlough, Elaine Knight, Marilyn Maffett]
Members of the Lincoln Police Department have been helping to make those initials stand for a better Christmas for less fortunate children for the past 18 years.
About 52 Lincoln area youngsters up to 16 years old received important items on their wish lists Wednesday evening when police officers passed out the presents at Knights of Columbus Hall.
[Megan Coons concentrating hard to get the presents wrapped.]
"Our goal is just to make sure that at Christmas every kid has presents," said Cpl. Mark Coons, who started the program 18 years ago.
"We want to help the kids have a Christmas they wouldn't normally have," added Detective John Bunner, president of the Fraternal Order of Police 208.
To help identify the children who might miss out on the fun at Christmas, the COPS group contacts local agencies. The youngsters make lists of the things they want most and submit them to the Police Department.
[Leighann Howland (left) and Mallory Coons (right) work together on the gift wrapping.]
Police officers do the shopping at local stores and wrap the presents, with a little help from friends and family. All three of Coons' children, daughters Megan, 20, and Mallory, 16, and son Mason, 12, help with the shopping and wrapping.
Clothes, music, dolls and games are high on the wish list, Megan told the Lincoln Daily News. Remote control cars, electronic games, radios and portable CD players are also "most-wanted" items, Coons added.
The idea for COPS started years ago, when Coons became aware that there were many children "falling through the cracks" who didn't get much for Christmas. He began asking for help from local merchants to make Christmas a little happier for these youngsters.
Today the COPS program is funded in several ways. It receives help from the FOP's annual telephone fund-raiser each spring, but the program still needs and accepts donations from local merchants.
Others help out, too. This year employees of Environmental Management Corporation, who maintain Lincoln's sewer department, got together and built three wrought-iron lawn ornaments, decorated them with lights, and asked Pete Fredericks of Pete's Hardware to raffle them off to raise funds for the COPS program.
"Our crew started working on them in November," Grant Eaton, sewer plant manager, said. "We built two five-foot snowmen and a sleigh."
[Officer Mike Bucanan busily wrapping.]
Pete and his staff displayed the figures at his Logan Street store and organized the bidding, helping EMC raise $750 for the Christmas project.
Gifts of toys also came from state Sen. Robert Madigan and state Rep. John Turner. "These toys became available as a result of a lawsuit settlement between Illinois Attorney General Jim Ryan and Toys 'R' Us," Madigan explained. "Each caucus of the General Assembly was given a portion of these toys as a result of the settlement." He and Turner agreed to donate the toys to the COPS program.
"COPS is a great program, and we just wanted to help them out so children here have a merrier Christmas," Madigan said.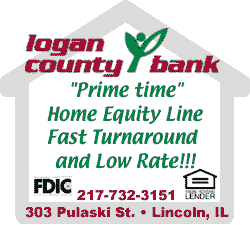 Guyett's business, Collision Concepts, has used the Cavalier as a courtesy car for patrons without rental insurance. Because the car is an older model, he felt that it was time to retire the vehicle and replace it with a newer one. The idea came to him to, instead, give it away to someone who needed it.
Guyett contacted the Department of Human Services in Lincoln. They quickly came up with a list of 24 qualified local candidates. Guyett and DHS wanted to give the car to an area family in need to help them become more self-sufficient. "Then we pretty much pulled a name out of a hat," said Guyett.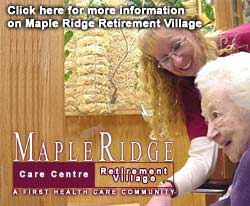 The name drawn from that hat was Frank Watts. Watts is a Lincoln resident and a congestive heart failure patient. He and his wife are "thankful to the Lord" for the gift. They are thankful to be receiving the car in order to get to the hospital, to pick up medicine and to get to the Veterans Administration meetings more easily. He appreciates the generosity of Guyett and the support of the Lincoln community.
Watts expressed that he would like to see this kind of thing happen more often. "Many more families need transportation. It would be nice if more fund-raisers and businesses could do this more. Maybe next year," Watts said.
An element in Guyett's decision to donate the car came from the support he has found in the Lincoln community. We can count Erv Guyett and Collision Concepts as assets to the community.