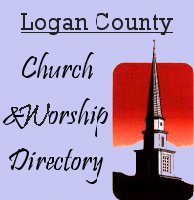 Lincoln Christian Church
204 N. McLean
217-732-7618
Preaching Minister:
Tom Gerdts
Worship:
8:30AM & 11:00AM
Trinity Episcopal Church
402 Pekin St., Lincoln
217-732-7609
Pastor: James Cravens
Worship:
7:30 & 9:45AM Sunday
9:00AM Tuesday-Friday

Full Gospel Evangelistic Center
426 N. Monroe St.
217-735-3148
Senior pastor: O.S. Owens
Associate pastor:
Steve Owens
Worship:
11AM & 6PM Sunday
Sunday School:
10AM Sunday
Bible study:
7PM Wednesday
Solid Rock youth group:
7:30PM Wednesday
(in Fellowship Center)
website: http://www.FullGospelRevival.org
Immanuel Lutheran Church ELCA
1409 Pulaski St., Lincoln
217-732-6777
Pastor Joe Bleakley
Worship:
9:00AM Sunday

Zion Lutheran Church
Lutheran Church-Missouri Synod
205 Pulaski St., Lincoln
217-732-3946
Pastor Mark Carnahan
Pastor Kirk Cunningham
Worship:
8:00 & 10:30AM Sunday
7:00PM Wednesday
Radio, WLLM-AM 1370:
8AM Sunday
TV, Cable Channel 15:
10:00AM Sunday
5:00PM Monday
First United Methodist Church
302 Broadway St., Lincoln
217-732-2204
Pastor: Larry Maffett
Worship:
Sept-May: 8:30 & 10AM
June-Aug: 9:00AM
website: www.gbgm-umc.org/
lincoln1stumc/index.html
United Pentecostal Church
1422 Pekin St., Lincoln
217-732-4662
Pastor: David Mitchell
Worship:
10:45AM & 6PM Sunday
Sunday School:
10AM
Bible Study:
7PM Wednesday
To inquire about listing your congregation's worship information, please e-mail us at ldn@lincolndailynews.com or call us at 217-732-7443.
---
'Sanctity of Life Week' celebrated
Gianna Jessen to speak
at LCHS
[JAN. 25, 2001] Starting Sunday, Jan. 21, with Sanctity of Human Life Sunday, Christians across the nation have been celebrating "Sanctity of Life Week." In Lincoln there will be a special presentation Friday evening by nationally known Gianna Jessen. Ms. Jessen speaks from the heart about her life, which was not intended to be by her biological mother.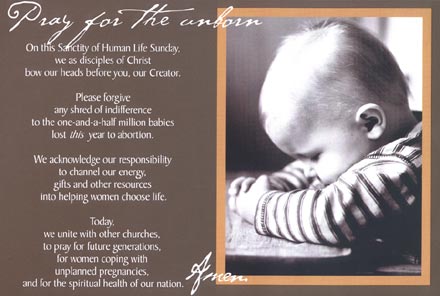 A pro-life advocate and musician, Gianna Jessen will be appearing at the Lincoln Community High School auditorium at 7 p.m. Jan. 26. The evening will include music, testimony and an opportunity to ask questions about Gianna's testimony and the pro-life movement. For tickets, call (217) 732-6722.
Gianna Jessen biography
A survivor of an unsuccessful saline abortion, Gianna Jessen is a talented young woman with a powerful testimony.
"I was touched by Gianna's story." — Charlton Heston, actor.
Aborted in the third trimester of her teenage biological mother's pregnancy, Gianna weighed a mere 2 pounds at birth. Her critical condition caused her to spend the first several months of her life in a Southern California hospital.
Gianna was eventually placed in foster care and soon diagnosed with cerebral palsy. Doctors believed that Gianna would never be able to sit up independently, and chances of her ever walking or crawling were as dim. However, by the grace of God, faithful prayers, and consistent love of a dedicated foster mother and family, Gianna proved the doctors wrong.
Gianna persevered through endless physical therapy sessions, and after a delicate surgery at age 3½, Gianna, for the first time, walked with the aid of a walker and light leg braces. Two months later, Gianna was legally released for adoption and another miracle took place. She was adopted by Diana DePaul, daughter of her foster mother. Thus, Gianna was permitted to remain in her longtime family, and Penny, Gianna's foster mother, now became Gianna's legal grandmother.
With love and attention, Gianna's physical condition improved, and now, after four delicate operations, Gianna walks and runs without leg braces or assistance and enjoys an active life.
Gianna's passion is music, and she has been gifted with a beautiful voice. She has written and recorded an independent album entitled "In the Waiting," and her music is a welcomed part of her ministry to audiences nationwide and internationally. Gianna has been working with renowned guitarist and occasional producer Phil Keaggy on her newest album.
Gianna has a desire to reach young people. By combining humor and honesty, she challenges them with issues like sexual abstinence, forgiveness, courage, perseverance, faith and obedience to Christ.
"God is using Gianna Jessen to remind the world that each human being is precious to Him. It is beautiful to see the strength of the love of Jesus, which He has poured into her heart. My prayer for Gianna, and for all who listen to her, is that this message of God's love will put an end to abortion with the power of love." — Mother Teresa
Gianna has appeared on local and national television including "The 700 Club," "The Maury Povich Show," "A Closer Look/Faith Daniels," and various news and cable programs. She has been featured on the "Focus on the Family" broadcasts, "Family News in Focus," "G. Gordon Liddy Show" and other major radio programs. Gianna's story has been featured in USA Today, Newsweek, New York Times, The Washington Post, The Boston Globe, The Chicago Tribune, The San Diego Union and other major print media in the United States and internationally.
This is one of Gianna's favorite quotes:
"If I thought I could save every soul in this place by making the slightest compromise with my conscience, I dare not in the sight of the living God do it. Consequences and usefulness are nothing to us. Duty and right, these are to be our guides ... though the heavens should fall, through our doing right, we are not to sin in order to keep them up." — Charles Spurgeon
[News release]
---