---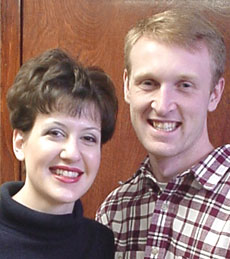 Katherine Heller and Tim Lueking, both of Lincoln, are engaged and plan to be married later this year.
Katherine is employed at Lincoln Christian College and Seminary as director of marketing and public relations and as a library assistant. She earned a bachelorís degree in professional writing and editing from Youngstown State University.
Tim is the minister at Lake Fork Christian Church and adjunct mathematics instructor at Lincoln Christian College. He is also currently a seminary student, pursuing his Master of Divinity at LCCS. His bachelorís degree, in mechanical engineering, is from Rose-Hulman Institute of Technology.
Katherineís parents are George and Vickie Heller of East Palestine, Ohio. Timís parents are Dr. Allen Lueking and Donna Lueking of Sullivan, Ind.
The wedding is set for July 28 at First Christian Church, Columbiana, Ohio.