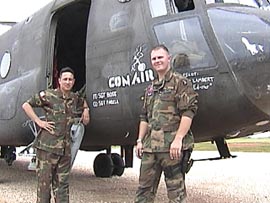 Lincoln native Brad Boss writes home:
I am currently serving a six-month rotation in Macedonia with the 101st Airborne Division. We routinely fly missions within Kosovo and Macedonia, and it's a little difficult to keep track of what's going on at home. I like to check and see what went on in Lincoln after I get back from a mission. Usually it's a lot quieter in Lincoln, which is a good thing.
About four weeks ago, we had a mission to haul Albanian prisoners from a detention facility in Kosovo to another prison. As we are always looking for ways to keep busy, we found some chalk and my crew chief, Sgt. Mario Fabela of Hebronville, Texas, and I promptly chalked the "Con Air" logo from the Nicolas Cage movie on the side of our CH-47D Chinook helicopter, along with our names and the pilot's names. It got a lot of attention. The missions went off without a hitch, and we all had a good time. Sgt. Fabela is on the left, and I am on the right.
Sgt. Brad Boss CH-47D Flight Engineer U.S. Army