CONTACT US
E-mail to Ads
LDN is best viewed with
Internet Explorer 5.0 or 6.
---
LDN AWARDS
from Logan County:
Dec. 16, 2001
Local Emergency Planning Committee
Jan. 25, 2001
Logan County Healthy Communities Partnership
from Illinois
Oct. 1, 2001
Illinois Public Health Association
posted daily OVER THE NOON HOUR (CsT)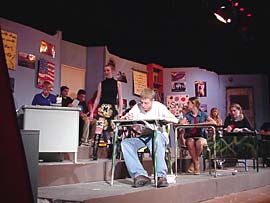 [Photos by Bob Frank]
Lincoln Community High School presents its annual winter play.
This year's program is titled "Up the Down Staircase."
Performances will be in the LCHS auditorium at 7:30 p.m. on Friday and Saturday, and at 3:00 p.m. on Sunday.

LDN SPONSORSHIPS
Do you enjoy LINCOLN DAILY NEWS? Do you appreciate LDN's positive role in the community? Do you like the convenience of seeing Logan County news, commentary and pictures right here on your screen wherever you are? We hope you do. And if you do, you have a special opportunity to help right now. You can be a personal sponsor of LDN. All readers are welcome to participate. Click here for details

.





Fun on the square:
Annual Christmas parade and other activities coming Thursday

A delightful holiday tradition, Festival of Trees opens Thursday

Balanced budget key to financial rating
Moody's downgrades 'outlook' for state because of uncertainty

Governor seeks to help United Airlines

Main Street Lincoln grant to help new businesses

Book Look: 'The Rope Trick'

Oasis update

High school basketball

Lincoln College men vs. Carl Sandburg

Lincoln College women vs. Carl Sandburg

Illini pass first test: Carolina 'Cooked!'

Illini kick the 'Tar' out of the 'Heels!'
LDNs of the past week: