CONTACT US
E-mail to Ads
LDN is best viewed with
Internet Explorer 5.0 or 6.
---
LDN AWARDS
from Logan County:
Dec. 16, 2001
Local Emergency Planning Committee
Jan. 25, 2001
Logan County Healthy Communities Partnership
from Illinois
Oct. 1, 2001
Illinois Public Health Association
posted daily OVER THE NOON HOUR (CsT)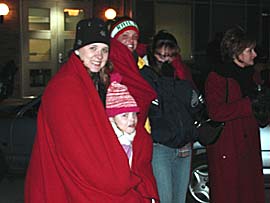 [Photos by Bob Frank]
Kids of all ages enjoyed last night's downtown Christmas parade from the streets and from the floats. Click here to view more photos.

LDN SPONSORSHIPS
Do you enjoy LINCOLN DAILY NEWS? Do you appreciate LDN's positive role in the community? Do you like the convenience of seeing Logan County news, commentary and pictures right here on your screen wherever you are? We hope you do. And if you do, you have a special opportunity to help right now. You can be a personal sponsor of LDN. All readers are welcome to participate. Click here for details

.






CILCO requesting rate increase for next year

Reorganized county board performs first orders of business

Union filing suit to block lease that would give college control of Zeller site

Lincoln Junior Woman's Club scholarships

Carroll School breakfast and Christmas bazaar

Millennium Clover 4-H club meets

High school wrestling

Baseball clinics feature offense and defense, pitching and catching

Cook hopes to draw on his experience and redeem himself
LDNs of the past week: