This year it was just beautiful.
The only complaint was the immense cold, which caused some band instruments to freeze up. But even the cold could not keep the city from enjoying the beautiful colors and lights decorating downtown.
Bobbi Abbott, director of the Lincoln/Logan Chamber of Commerce, enthusiastically described the evening. "Itís winter; itís December; itís Illinois! The sky was clear; the stars were brightÖit was a beautiful night for a parade!"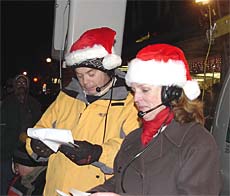 [Photos by Bob Frank]
The floats were judged and awarded prizes. There were three categories, each of which had a first- and second-place award, and four special awards.
Business, Industry and Government category:
First place: Precision Products
Second place: Audraís School of Dance
Religious, Youth and Charitable category:
First: Lincoln Young America Bowling Alliance
Second (tie): Lincoln Southern Baptist Church and 4-H Federation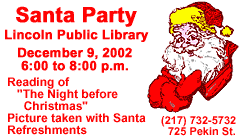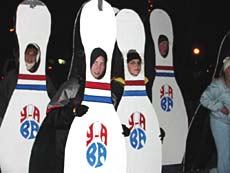 Not-for-Profit category:
First: Logan County ESDA Horse Search and Rescue (Santaís sled)
Second: Logan Railsplitting Association
The overall winner was the Gold Wings Road Riders Association.
The Chamber Award for the best portrayal of the theme "Let Your Spirits Soar" was given to St. Gobain Containers.
The Mayoral Award, chosen by Mayor Beth Davis, went to the Land of Lincoln Antique Tractor and Engine Club.
The Grand Marshalís Award, chosen by Perry Grieme, was given to Nobbe Eye Care Center.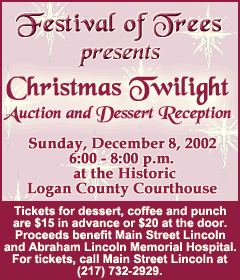 Abbott expressed her appreciation "to all the individuals and businesses who take the time to decorate floats for the parade, because thatís what makes the parade so special."
"It shows how many people have community involvement, decorating these floats and bringing lights to the darkness of downtown," she said.
People who qualify for the programs need to pick up a tree coupon at Community Action or Department of Human Services offices during normal business hours, Monday through Friday, 8:30 to 4:30. The coupons will be distributed on a first-come, first-served basis, as there are a limited number available. Coupons will not be available beyond noon on Dec. 10.
To get a tree, recipients need to bring their coupon to the new Woodlawn Road location of Collision Concepts between 3 and 7 p.m. Tuesday, Dec. 10. The trees will be distributed at the new facility, 1005 Macon St. Trees will not be available to people who donít present a coupon.
This effort is made possible through Lincoln Kiwanis, Community Action and the Department of Human Services. Printing of coupons was donated by Lincoln Printers. Logan County ESDA will provide temporary lighting the evening of the 10th at the pick-up location.
Feel free to call Community Action at 732-2159 or the Department of Human Services at 735-2306 if you have any questions.
[Press release]