CONTACT US
E-mail to Ads
LDN is best viewed with
Internet Explorer 5.0 or 6.
---
LDN AWARDS
from Logan County:
Dec. 16, 2001
Local Emergency Planning Committee
Jan. 25, 2001
Logan County Healthy Communities Partnership
from Illinois
Oct. 1, 2001
Illinois Public Health Association
posted daily OVER THE NOON HOUR (CsT)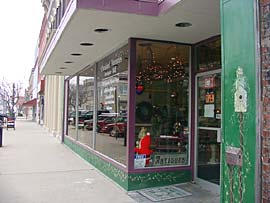 [Photos by Bob Frank]
Local businesses offer relaxed holiday shopping.
LDN SPONSORSHIPS
You can make a difference. If every regular reader sent just $1.00, the sponsorship goal this quarter would be more than met. We are asking for far less. We know not everyone will remember or can give at this time. Maybe you will send a contribution next quarter. We will keep this drive going with a goal of $2,500.
Click here for sponsorship details.
$220.00 has been pledged or sent. Thank you.


High school basketball: Lincoln Railers vs. Taylorville
7:45 p.m. Friday
Broadcast via FIX-FM 96.3 radio and Lincoln Daily News
Videotaped by CITV Channel 5
Sponsored by: Jim Xamis Ford Lincoln - Mercury and
"Time Out" Sports Cards & Memorabilia

Yesterday's headlines:
'Tis the season to use reason

New county board Animal Control Committee hears concerns and requests

Libraries receive state grant awards

Landfill returns to regular hours Dec. 16

Farmdoc gets national award

LC teams play Florissant Valley

Pre-game notes: Illinois vs. Temple

Watching for diabetes
LDNs of the past week: