CONTACT US
E-mail to Ads
LDN is best viewed with
Internet Explorer 5.0 or 6.
---
LDN AWARDS
from Logan County:
Dec. 16, 2001
Local Emergency Planning Committee
Jan. 25, 2001
Logan County Healthy Communities Partnership
from Illinois
Oct. 1, 2001
Illinois Public Health Association
posted daily OVER THE NOON HOUR (CST)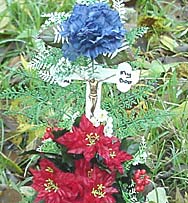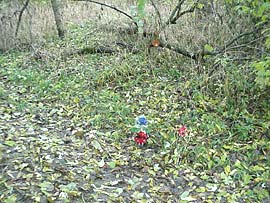 [Photos by Bob Frank]
Flowers are being brought to this spot in Kickapoo Creek Park, near the place where
the body of 18-year-old Brian Bobb was found on the morning of Sept. 27.
Bobb was actually found a short distance west of this spot on the trail.







Halloween fest

Mitchell bill asks for impact study before closing a state facility

Mitchell bill unveiled at press conference
Would prevent closures like LDC and Zeller when economic impact on a community is too severe

Justice John Turner supported

Letter: Nichols -- qualified choice for sheriff

High school volleyball

Lincoln College volleyball season ends

Redbirds ranked fourth in Valley menís basketball poll

Cook, Howard to sit two games
LDNs of the past week: