CONTACT US
E-mail to Ads
LDN is best viewed with
Internet Explorer 5.0 or 6.
---
LDN AWARDS
from Logan County:
Dec. 16, 2001
Local Emergency Planning Committee
Jan. 25, 2001
Logan County Healthy Communities Partnership
from Illinois
Oct. 1, 2001
Illinois Public Health Association
posted daily OVER THE NOON HOUR (CsT)

This edition of LDN
is brought to you by

Cronin Bros.
VFW Post 1756
in honor of all veterans who have served our country.

915 5th St., Lincoln, IL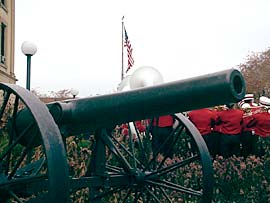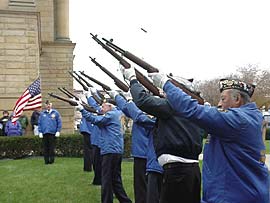 [Photos by Bob Frank]
Logan County salutes veterans.
Veterans Day, Monday, Nov. 11, 2002



6 p.m. Monday -- "Fandamonium"
Sports talk hosted by Jeff Mayfield and Greg Taylor
Brought to you over airwaves, cable and telephone wires
Produced at LogOn Productions, cable Channel 5, and
simulcast via Lincoln Daily News and WFIX-FM 96.3 radio
Sponsored by: Jim Xamis Ford Lincoln - Mercury and CCAonline



Watch who you hire or accept as volunteers
7 percent of Santa Claus applicants are criminals

Abraham Lincoln Presidential Library ceremonial opening

Ryan releases Illinois FIRST funds to upgrade Brookfield Zoo

Sex, drugs and lies

Speaker addresses students and community leaders

Grazing pasture walks announced

2002 Illinois Sheep Industry Day set
Coffee will be served as sheep are counted

Marriages and dissolutions

Weekly court reports

Scientists say low October temperatures one of many indicators in anticipated 'Arctic Era'
By Jan Youngquist

High school volleyball

LCC Preachers continue solid play

LC men's basketball
LDNs of the past week: