CONTACT US
E-mail to ads
LDN is best viewed with
Internet Explorer 5.0 or 6.
---
LDN AWARDS
Local:
Dec. 16, 2001
Local Emergency Planning Committee
Jan. 25, 2001
Logan County Healthy Communities Partnership
State:
Oct. 1, 2001
Illinois Public Health Association
posted daily OVER THE NOON HOUR (CDT)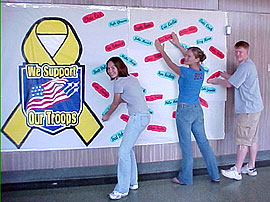 [photo courtesy of LCHS; edited by LDN]
LCHS student government responded to the student bodyís desire to show support for the men and women serving in the military. With the cooperation of an art student, a mural was created to help remember all the former students of LCHS who are now serving in the armed forces. Ninety-one names are on the mural, and more are being added every day.









Governor holds true to word with a few surprises

Sen. Brady opening office

New drug program will help more seniors

Necessity is not the mother of invention Ö these women are

High school baseball

High school softball

Lincoln College softball vs. Lincoln Land

Local fans take in NCAA tourney

Power outages and food safety
LDNs of the past week: