---
---
Submit letter to editor online
---
Contact us
---
LDN is best viewed with
Internet Explorer 5.0 or 6.
---
LDN awards
Local:
Dec. 16, 2001
Local Emergency Planning Committee
Jan. 25, 2001
Logan County Healthy Communities Partnership
State:
Oct. 1, 2001
Illinois Public Health Association
posted daily OVER THE NOON HOUR (CDT)

=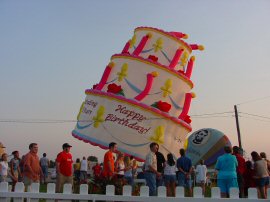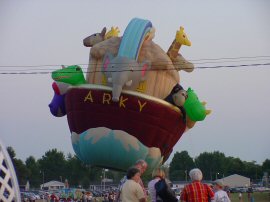 This year's Balloonfest takes the cake! [Pictures by Bob Frank]

7-8:30 p.m. -- "An Evening with Abraham Lincoln in Logan County," with Paul Beaver and a panel of historians, Lincoln College Johnston Center
Spotlight on business, with tours, promotions, open houses
Organized tours or open houses hosted at Abraham Lincoln Memorial Hospital (3-6 p.m.), Weyerhaeuser, Precision Products, Friendship Manor, Key Printing, Russell Stover Candies, Union Planters Bank
1-3 p.m. -- Demonstration on wood carving by Deane McKinley at Logan County Genealogical & Historical Society research center, 114 N. Chicago St.
6 p.m. -- 1860s baseball game, Ground Squirrels versus local sports standouts, Lincoln Junior High School ball diamond






Art and Balloon Festival graced with near-perfect weather

Pictures from the 2003 Lincoln Art and Balloon Festival

More pictures from the Lincoln Art and Balloon Festival

New school will be habitable on opening day, Tuesday

Minimum wage going up

Illinois reviews vulnerability to power outages

Abraham Lincoln Memorial Hospital tours on Aug. 26

Letter: Reader appreciates coverage of Vietnam Memorial and list of Logan County soldiers who gave their lives for peace
LDNs of the past week: