CONTACT US
E-mail to Ads
LDN is best viewed with
Internet Explorer 5.0 or 6.
---
LDN AWARDS
from Logan County:
Dec. 16, 2001
Local Emergency Planning Committee
Jan. 25, 2001
Logan County Healthy Communities Partnership
from Illinois
Oct. 1, 2001
Illinois Public Health Association
posted daily OVER THE NOON HOUR (CsT)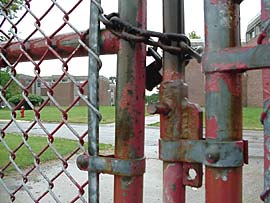 [LDN file photos by Bob Frank ]
LDC to reopen? Will these gates stay locked forever?


"What's Up With That?" with hosts Jim Griffin and Jim Ash
You can call the show at (217) 735-3306 during the LIVE broadcasts, Wednesday nights from 6:30 to 7, or e-mail your "irks" to citv@citv5.com.
Channel 5 LogOn Productions live audio rebroadcast on LDN
Sponsored by: Jim Xamis Ford Lincoln - Mercury and
"Time Out" Sports Cards & Memorabilia



Book Look: 'A Year Down Yonder'


City officials optimistic about grant possibilities

Junior high won't be built at Adams School site

Weekly outlook
Beef prices and expansion

High school basketball

LCC vs. St. Louis Christian

LCC signs Sarah Nichols to play volleyball

Photos from LCC Classic:
Men Women

Alexander nets Valley Player of the Week honor

Cook is among 30 candidates for Wooden Award
LDNs of the past week: