CONTACT US
E-mail to Ads
LDN is best viewed with
Internet Explorer 5.0 or 6.
---
LDN AWARDS
from Logan County:
Dec. 16, 2001
Local Emergency Planning Committee
Jan. 25, 2001
Logan County Healthy Communities Partnership
from Illinois
Oct. 1, 2001
Illinois Public Health Association
posted daily OVER THE NOON HOUR (CsT)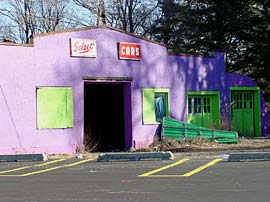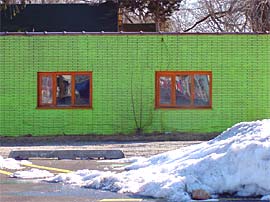 [Photos by Bob Frank]
Lincoln is about to lose its famous, outlandish Caribbean-colored buildings. The garrishly colored structures, which are located next to Kroger, will soon be bulldozed to make way for a stylish auto business.







Lincoln students hone storytelling and writing skill under master

Child Passenger Safety Week

Students honored for academic excellence

Local horticulture workshops

Parents and teachers, new website helps explain terrorism to kids

Snowy mutterings by Jeff Mayfield

Junior high basketball -- state tournament

High school basketball

High school basketball regionals schedule

High school wrestling

LCC vs. Grace Bible

Alexander, Redbird defense shine on Lincoln Day

Illinois State falls to Bradley

ISU's Bracket Buster game to be televised locally

Illini, Cook overwhelm Ohio State
LDNs of the past week: