CONTACT US
E-mail to Ads
LDN is best viewed with
Internet Explorer 5.0 or 6.
---
LDN AWARDS
from Logan County:
Dec. 16, 2001
Local Emergency Planning Committee
Jan. 25, 2001
Logan County Healthy Communities Partnership
from Illinois
Oct. 1, 2001
Illinois Public Health Association
posted daily OVER THE NOON HOUR (CsT)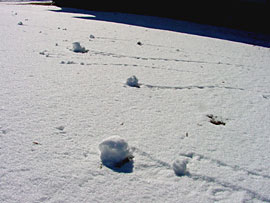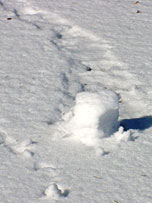 [Photos by Bob Frank ]
All right, where are the footprints and who made all these snowballs?
About 7 p.m. Tuesday the National Weather Service issued a thunderstorm warning. A very strange phenomenon occurred just after that. Heavy rain began falling as high winds with gusts up to 50 mph struck the area. The winds tried to pick up the newly rain-dampened 5 inches of snow. What resulted were millions of snowballs of all sizes seen scattered over lawns and fields throughout central Illinois this morning.





Book Look: 'Murder in the Hearse Degree'

"What's Up With That?" with hosts Jim Griffin and Jim Ash
You can call the show at (217) 735-3306 during the LIVE broadcasts Wednesday nights from 6:30 to 7 or e-mail your "irks" to citv@citv5.com.
Channel 5 LogOn Productions live audio rebroadcast on LDN
Sponsored by: Jim Xamis Ford Lincoln - Mercury and
"Time Out" Sports Cards & Memorabilia




Automotive business plans move to Woodlawn Road

January cold and dry, but winter temps near average

Weekly outlook on corn prices

Local students attend all-state music convention

United Cerebral Palsy playtime for kids

Parents and teachers, new website helps explain terrorism to kids

High school basketball

Men's basketball pre-game notes: Illinois State at Bradley
LDNs of the past week: