CONTACT US
E-mail to Ads
LDN is best viewed with
Internet Explorer 5.0 or 6.
---
LDN AWARDS
from Logan County:
Dec. 16, 2001
Local Emergency Planning Committee
Jan. 25, 2001
Logan County Healthy Communities Partnership
from Illinois
Oct. 1, 2001
Illinois Public Health Association
posted daily OVER THE NOON HOUR (CsT)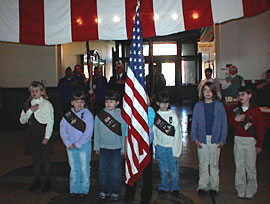 [Photos by Gina Sennett]
Families from all over Logan County celebrated Abraham Lincolnís 194th birthday at the Logan County Courthouse on Saturday. The VFW and the Girl Scouts provided the opening flag ceremony. And, like any good birthday party, this one ended with cake and ice cream.

Watch for new information. This site will be updated as the storm is tracked.



High school basketball: Lady Railers at Southeast
7:30 p.m. Thursday
Broadcast via FIX-FM 96.3 radio and Lincoln Daily News
Videotaped by CITV Channel 5
Sponsored by: Jim Xamis Ford Lincoln - Mercury and
"Time Out" Sports Cards & Memorabilia


Central Illinois braces for potential ice storm (later posting)

Sewer delinquents cause red ink for city

Montcalm resigns from city council

'No' means 'no'
Senators support law proposal

Lincoln to host over 1,000 at conference Saturday

Lincoln College presents 'Orpheus Descending'

Book Look: 'Murder in the Hearse Degree'

IMSA application deadline drawing near

Oasis update

LCHS swim results

High school basketball

'Birds looking for consistency back on the road
LDNs of the past week: