CONTACT US
E-mail to Ads
LDN is best viewed with
Internet Explorer 5.0 or 6.
---
LDN AWARDS
from Logan County:
Dec. 16, 2001
Local Emergency Planning Committee
Jan. 25, 2001
Logan County Healthy Communities Partnership
from Illinois
Oct. 1, 2001
Illinois Public Health Association
posted daily OVER THE NOON HOUR (CsT)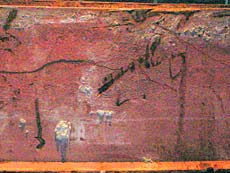 [Photo by Bob Frank]
Lincoln College Museum has a remnant on display from America's recent
darkest moment in history. Damage to a section of WTC steel girder shows
that temperatures reached 1,800 degrees, the temperature around which
silver melts.





6 p.m. Monday -- "FANdamonium"
Sports talk hosted by Jeff Mayfield and Greg Taylor
Brought to you over airwaves, cable and telephone wires
Produced at LogOn Productions, cable Channel 5, and
simulcast via Lincoln Daily News and WFIX-FM 96.3 radio
Sponsored by: Jim Xamis Ford Lincoln - Mercury and
"Time Out" Sports Cards & Memorabilia

Winter storm warning

Campbell appointed vice president of advancement at Lincoln College

Governor puts pinch on spending at state universities

R & H Farm Supply to close

FFA celebrates 75 years

Letter: Election opportunity to change government

Marriages and dissolutions

Prayer for youth Saturday evening -- canceled

LCHS Railers at Moline -- canceled

High school basketball

Researchers seek help from anglers

Whole foods provide more than dietary supplements
LDNs of the past week: