CONTACT US
E-mail to Ads
LDN is best viewed with
Internet Explorer 5.0 or 6.
---
LDN AWARDS
from Logan County:
Dec. 16, 2001
Local Emergency Planning Committee
Jan. 25, 2001
Logan County Healthy Communities Partnership
from Illinois
Oct. 1, 2001
Illinois Public Health Association
posted daily OVER THE NOON HOUR (CsT)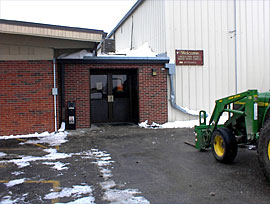 [Photo by Lynn Spellman]
Do not use this entrance!
The park district sports complex entrance is closed to traffic. All patrons must use the main entrance.





Alexander ties record

Heavy, like the day, a piece of World Trade Center girder on display at Lincoln College Museum

Original Lincoln letter, signed photo given to Illinois State Historical Library

Main Street Lincoln offers business start-up monies

Free bone density screenings

Cook one of 10 nominated for Senior CLASS Award

High school basketball

High school wrestling

Birds solve 'Bear-muda Triangle' with win at Wichita
LDNs of the past week: