CONTACT US
E-mail to ads
LDN is best viewed with
Internet Explorer 5.0 or 6.
---
LDN AWARDS
Local:
Dec. 16, 2001
Local Emergency Planning Committee
Jan. 25, 2001
Logan County Healthy Communities Partnership
State:
Oct. 1, 2001
Illinois Public Health Association
posted daily OVER THE NOON HOUR (CDT)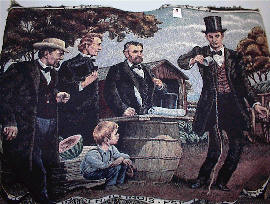 A great gift or family heirloom, Abraham Lincoln christening the city of Lincoln afghan, is available only in Lincoln. New 150 year mementos are available now.







County tables transfer of economic development funds, pays 54% more for liability coverage

Animal owners advised to take precautions to protect themselves and their pets from monkeypox virus

Mitchell discusses prescription drug relief with President Bush

Book Look: 'Marika'

Oasis update
LDNs of the past week: