CONTACT US
E-mail to Ads
LDN is best viewed with
Internet Explorer 5.0 or 6.
---
LDN AWARDS
from Logan County:
Dec. 16, 2001
Local Emergency Planning Committee
Jan. 25, 2001
Logan County Healthy Communities Partnership
from Illinois
Oct. 1, 2001
Illinois Public Health Association
posted daily OVER THE NOON HOUR (CsT)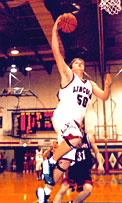 [photo by Bob Frank]
Lincoln Railsplitters trounced the Springfield Senators 70-37 in their Class AA regional last night. Next, the Railers will play the winner of the Sacred Heart-Griffin/Champaign Centennial game. The regional final will be on Friday, here.






"What's Up With That?" with hosts Jim Griffin and Jim Ash
You can call the show at (217) 735-3306 during the LIVE broadcasts, Wednesday nights from 6:30 to 7, or e-mail your "irks" to citv@citv5.com.
Channel 5 LogOn Productions live audio rebroadcast on LDN
Sponsored by: Jim Xamis Ford Lincoln - Mercury and
"Time Out" Sports Cards & Memorabilia




Winter storm to affect parts of central Illinois Tuesday night through Wednesday morning (posted Tuesday afternoon)

Council hears reports from EDC, animal control

Team up with friends for MS Walk

Health Matters: A preventable cancer

Weekly outlook on hog prices

Local church celebrates Mardi Gras and Lent

High school basketball

Lincoln College women close out season

Lincoln College baseball outlook

SIU pulls away from Illinois State

Men's basketball pre-game notes: Illinois at Wisconsin

Illinois game to be televised Sunday
LDNs of the past week: