CONTACT US
E-mail to Ads
LDN is best viewed with
Internet Explorer 5.0 or 6.
---
LDN AWARDS
from Logan County:
Dec. 16, 2001
Local Emergency Planning Committee
Jan. 25, 2001
Logan County Healthy Communities Partnership
from Illinois
Oct. 1, 2001
Illinois Public Health Association
posted daily OVER THE NOON HOUR (CsT)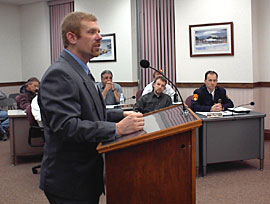 [Photo by Joan Crabb]
Kevin Riggins, father of 16-year-old athlete Sean Riggins, who died after taking an ephedra product, talks to the Lincoln City Council.






"What's Up With That?" with hosts Jim Griffin and Jim Ash
You can call the show at (217) 735-3306 during the LIVE broadcasts, Wednesday nights from 6:30 to 7, or e-mail your "irks" to citv@citv5.com.
Channel 5 LogOn Productions live audio rebroadcast on LDN
Sponsored by: Jim Xamis Ford Lincoln - Mercury and
"Time Out" Sports Cards & Memorabilia



Cook selected as Big Ten's Player of the Year

Nationally known business leaders to host seminar in Lincoln

Submit your vote for Cook for Senior CLASS Award

A life-altering disease: diabetes
Part 3: Discovery to management

Give blood Wednesday

Conservation program should focus on sloping lands

Class comedian for career class

High school basketball

Cook named Big Ten Player of the Year by coaches and media

Brian Cook named as a finalist for Wooden Award

ZLS state basketball

Lincoln College splits softball games in Florida

Lincoln College baseball team plays Alabama Southern

Yopp believes her team is relaxed, businesslike
LDNs of the past week: