CONTACT US
E-mail to Ads
LDN is best viewed with
Internet Explorer 5.0 or 6.
---
LDN AWARDS
from Logan County:
Dec. 16, 2001
Local Emergency Planning Committee
Jan. 25, 2001
Logan County Healthy Communities Partnership
from Illinois
Oct. 1, 2001
Illinois Public Health Association
posted daily OVER THE NOON HOUR (CsT)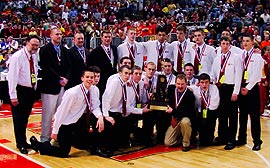 [Photos by Bob Frank]
Warrensburg-Latham Cardinals reign as Class A third place Illinois boys basketball state champs. The Cardinals beat Cairo 58-56 Saturday evening in Peoria.

The president is scheduled to address the nation at 7 p.m. CST



6 p.m. Monday -- "FANdamonium"
Sports talk hosted by Jeff Mayfield and Greg Taylor
Brought to you over airwaves, cable and telephone wires
Produced at LogOn Productions, cable Channel 5, and
simulcast via Lincoln Daily News and WFIX-FM 96.3 radio
Sponsored by: Jim Xamis Ford Lincoln - Mercury and
"Time Out" Sports Cards & Memorabilia

Yesterday's headlines:
Lincoln earns community policing award

Girl Scout Week celebrates the fun, friendship and power of girls together

Illinois to lead business development through entrepreneurship centers

New Department of Corrections head resigns position

Six arrested for dealing crack cocaine

(originally posted Friday afternoon)

Marriages and dissolutions

High school basketball

Lincoln game ticket news release

Illinois blows away Northwestern

The Big Ten is at it again

Big Ten tournament Friday notes

Saturday's Big Ten tourney schedule

LDNs of the past week: