CONTACT US
E-mail to ads
LDN is best viewed with
Internet Explorer 5.0 or 6.
---
LDN AWARDS
Local:
Dec. 16, 2001
Local Emergency Planning Committee
Jan. 25, 2001
Logan County Healthy Communities Partnership
State:
Oct. 1, 2001
Illinois Public Health Association
posted daily OVER THE NOON HOUR (CST)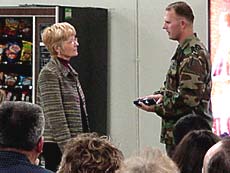 [Photo by Jan Youngquist]

Lincoln Community High School teachers, already assembled for an in-house clinic, had a surprise visitor recently. LCHS grad Sgt. Brad Boss was home for a few brief days. He presented an American flag on behalf of the U.S. Army to Principal Joyce Hubbard, and then he answered a few questions from the floor about his travels to other countries.
Sgt. Boss is crew chief on a Chinook helicopter. They transport troops.
Sgt. Boss has been in all the world's hot spots, including Kosovo and Afghanistan, since his career began in 1992. In summary to a question about having visited so many other places, Boss said, "I like America the best."
His brief presentation sparked deep sentiment and tears spilt from several teachers' eyes.








Drug task force begins to prioritize activities
Nuisance fruit removal
Heartland Beef Alliance to meet
Letter: Vote no on tax increases
Mayfield's Mutterings...: Cook's Illini career is over
Gator swimmer wins medals at Junior Olympic meet
Clark sets 3-point record as Lynx win season finale
Lincoln College baseball vs. Parkland
Lincoln College softball vs. Lincoln Land, Spoon River
LDNs of the past week: