CONTACT US
E-mail to ads
LDN is best viewed with
Internet Explorer 5.0 or 6.
---
LDN AWARDS
Local:
Dec. 16, 2001
Local Emergency Planning Committee
Jan. 25, 2001
Logan County Healthy Communities Partnership
State:
Oct. 1, 2001
Illinois Public Health Association
posted daily OVER THE NOON HOUR (CST)


You are invited to a unique Grand Opening of a very unusual type of business. Take part in some of the greatest savings on used, new, antique, unfinished, estate furnishings and accessories we will ever offer! The historic Odd Fellows building at 112 S. McLean, across from the courthouse door, on the square in Lincoln, has been transformed into a multi-level shopping experience. The new "Lincoln Antique and Furniture Center" is patterned after its owner's 33-year-old "Chestertown Antique and Furniture Center" in Maryland. Not only a major liquidator of estates in Maryland and auction company (Maryland Shore Auctioneers) for over 30 years, but also a manufacturer of furniture as well. After just one visit, you'll be back again and again. Prices so low you won't believe it! Bring your wagon, pickup truck, trailer or whatever -- and save! Save! Save! Look at some of these savings...
---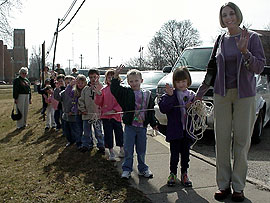 [Photo by Tom Seggelke]
Lincoln Christian Church Nursery School children and teachers take advantage of the warming weather and sunshine. Teachers keep their little charges in line using the rope-walk technique.
---

LETTERS TO THE EDITOR



"What's Up With That?" with hosts Jim Griffin and Jim Ash
You can call the show at (217) 735-3306 during the LIVE broadcasts, Wednesday nights from 6:30 to 7, or e-mail your "irks" to citv@citv5.com.
Channel 5 LogOn Productions live audio rebroadcast on LDN
Sponsored by: Jim Xamis Ford Lincoln - Mercury and
"Time Out" Sports Cards & Memorabilia




Firefighters graduate from U of I

Proposed law clarifies that 'no' means 'no'

State lawmakers back proposed pension financing plan saving $2 billion

Senate week in review

Illinois strengthens homeland security leadership team

Ag Day scholarship winners

Weekly outlook
Wheat prices

New Holland-Middletown honor roll

New Web address for Lincoln College

Class of '88 reunion

ISU football prospectus
LDNs of the past week: