CONTACT US
E-mail to ads
LDN is best viewed with
Internet Explorer 5.0 or 6.
---
LDN AWARDS
Local:
Dec. 16, 2001
Local Emergency Planning Committee
Jan. 25, 2001
Logan County Healthy Communities Partnership
State:
Oct. 1, 2001
Illinois Public Health Association
posted daily OVER THE NOON HOUR (CDT)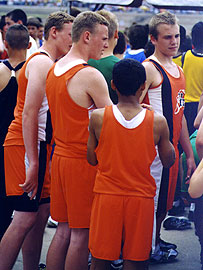 [Photos by Rick Hobler]
West Lincoln-Broadwell's record-breaking 4x100 relay team featured (from left to right) Kylie Sparks, Melissa Ramlow, Natalie Boward and Hilary Hobler.
The Hartsburg-Emden boys take first place in the 4x200 relay. Taking the victory are Dustin and Daken Bolen, Mitchel Gleason and Tarel Stancle.





Blagojevich urges Senate to approve leaner, more efficient government

Area students graduate from Lincoln College

Letter: Serving in the military

Marriages and dissolutions

Weekly court reports

'Heart healthy' cooking classes offered

High school baseball

High school softball

High school track and field
LDNs of the past week: