CONTACT US
E-mail to ads
LDN is best viewed with
Internet Explorer 5.0 or 6.
---
LDN AWARDS
Local:
Dec. 16, 2001
Local Emergency Planning Committee
Jan. 25, 2001
Logan County Healthy Communities Partnership
State:
Oct. 1, 2001
Illinois Public Health Association
posted daily OVER THE NOON HOUR (CDT)

Erv Guyett and his staff celebrated their grand opening Thursday with a ribbon-cut ceremony conducted by the Lincoln/Logan Chamber of Commerce Ambassadors. The newly built, state-of-the-art facility is located at 1005 Macon St., between the former APAC and Lee's Furniture.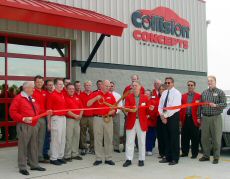 LDNs of the past week: