Family night out for cancer cure

Send a link to a friend
[APRIL 2, 2005] The Lincoln Area YMCA will provide a variety of family activities in conjunction with the Cancer Walk on May 21 from 6 to 9 p.m. All activities will be on the Lincoln Christian College campus, and all proceeds go to the Cancer Walk. Come join us for the following activities and help us find a cure for cancer:
Parents' night out -- Bring your 6- to 12-year-olds to the Laughlin Center gym for the evening while you and your spouse have a fun evening away from home or use your time to walk for cancer. Cost is $10 per child and you must preregister at the YMCA office -- 604 Broadway, Suite 1 -- or download a registration form from www.lincolnymca.org. [To download Adobe Reader for the form, click here.] Register before May 19 and be entered in a drawing on May 20 to win dinner for two at Guzzardo's.

Bring the little ones and join us outside for some carnival fun. Jump in the Whopper Hopper, visit the petting zoo, or play games. Tickets available at the carnival for each activity.

Big and small, come join us for a hoop shoot in the Laughlin Center gym from 6 to 8 p.m. Cost is $5 per person to enter. Prizes for winning shooters.
All proceeds go to the American Cancer Society.
[Lincoln Area YMCA news release provided by Linda Marini]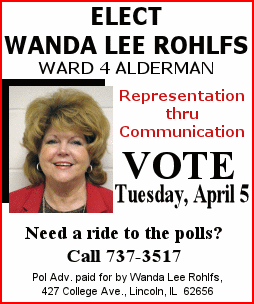 Vote "YES" for the Public Safety Tax to keep vital Logan County services!
Public Safety Tax
If Logan County voters reject a 0.25% Public Safety tax increase, serious consequences will result:
1. Sheriff's Dept.: Public safety will be at risk because 7 deputies & 3 other employees will be cut
2. Highway Dept.: Snowplowing, road & ditch work will be reduced because 2-3 employees will be cut
3. County & Circuit Clerk: Services will be reduced as 4 employees will be cut
4. Animal Control: Recent improvements in jeopardy. Hours of operation & employee hours will be cut
5. Logan County Health Dept.: Services for many Logan County residents will be severely reduced as 6 employees will be cut; Rural Health Mobile Unit services will be eliminated; clinic hours reduced
The Lincoln & Logan County Development Partnership supports the Public Safety tax increase. Quality of life for many Logan County residents will suffer if this is not approved.
For more information, please contact:
Elizabeth Davis
Ron Schilling
Bobbi Abbott
Dave Hawkinson
Marty Ahrends
Grant Evitts
Dan Freesmeier

Todd Lowman
Jerry Johnson
Jim Hawes
Marty Neitzel
Bill Glaze
Paul Short

---