Gov. Blagojevich welcomes baseball great Ernie Banks to Illinois Rx Buying Club team

Send a link to a friend
Hall of Famer to serve as Illinois Rx Buying Club spokesman
[APRIL 8, 2005] CHICAGO -- With the Chicago Cubs playing their first home game of the season today (Friday) at Wrigley Field, Gov. Rod Blagojevich announced Thursday that Mr. Cub™ , Ernie Banks, will serve as spokesman for the state's Illinois Rx Buying Club. Banks will appear in a series of radio, TV and print advertisements urging seniors and people with disabilities to join the Illinois Rx Buying Club.
The club provides seniors, 65 and over, as well as people with disabilities, average savings of up to 24 percent on all FDA-approved prescription drugs at over 2,200 pharmacies throughout the state. In 2004, its first year, the club helped over 66,000 members fill over 300,000 prescriptions for a total savings of over $4.1 million.

"We're thrilled to have Ernie Banks on board to help promote and expand the Rx Buying Club to more people who are struggling to afford their medications," the governor said. "His willingness to get involved shows that he's more than a living baseball legend -- he's a concerned citizen who understands the challenges facing seniors today."

Banks, who is a member of baseball's Hall of Fame and a former Negro League player, volunteered to help promote the Illinois Rx Buying Club because he has friends and family who could be helped by the program.

"I know people in my life that need help with their prescription drug costs," said Banks. "It just tears me up to see them pay so much for their medications. This program will help."

The ad campaign coincides with the launch of the Illinois Rx Buying Club's enrollment drive and Member Day promotion. More than 460 participating pharmacies throughout the state will encourage customers to sign up for the program. Additionally, a number of partners will offer a Member Day benefit once a week or month. Earlier this year the enrollment fee was lowered to $10. For more details visit the club's website at www.IllinoisRxBuyingClub.com.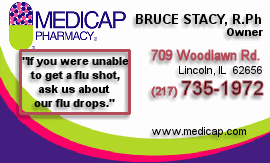 The Illinois Rx Buying Club provides discounts on all prescription drugs approved by the FDA and is available through participating pharmacies and a mail-order option. The program is not income-based and is open to all Illinois residents who are 65 or older and the disabled. Members pay an annual administrative fee and in return receive a discount card they can use when purchasing any prescription medication at more than 50,000 participating pharmacies across the United States. For more information, call 1 (866) 215-3462 or visit www.IllinoisRxBuyingClub.com.
Participating pharmacies
(* Denotes pharmacies offering a Member Day benefit)
All locations
Dominick's*
Osco
Schnucks
Albion
Lovins Pharmacy*
Alton
B & D Pharmacy*
Aurora
Aurora Pharmacy*
Medical Park Pharmacy*
Barrington
Good Shepherd Hospital Pharmacy*
Belvidere
O'Brien & Dobbins Pharmacy*
Bethalto
Medicine Shoppe Pharmacy*
Bloomington
Wal-Mart Pharmacy
Blue Island
Islander Pharmacy*
Bradley
Jaffe Drug Store*
Bridgeport
Scott's Drugs & News*
Burr Ridge
Auburn Pharmacy*
Canton
Medicine Shoppe Pharmacy
Carmi
Lovins Pharmacy*
Chicago
Braun Pharmacy*
Kosirog Drugs*
Monik Pharmacy*
Outpatient Pharmacy Services*
Randolph's Rx Pharmacy*
Rex Pharmaceuticals*
Christopher
Kirk's Pharmacy
Clinton
Clausen's Pharmacy
Prescription Shoppe
Columbia
Medicine Shoppe Pharmacy*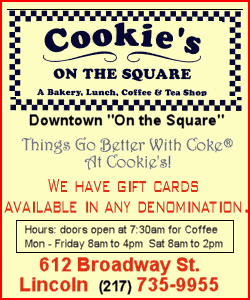 Decatur
Dale's Southlake Pharmacy*
Victory Pharmacy*
Dixon
Dixon Pharmacy*
Fulton
Berg Pharmacy*
Galena
Clingman Pharmacy
Grayville
Lovins Pharmacy*
Gurnee
Greenleaf Pharmacy
Hardin
Calhoun Drug*
Herrin
Moroni Drugs*
Highland
Medicine Shoppe Pharmacy*
Jerseyville
Medicine Shoppe Pharmacy
Joliet
Basinger Pharmacy
Basingers Pharmacy City Center
Basingers Primary Care Pharmacy
Lacon
Family Discount Drugs*
Ladd
Ladd Pharmacy*
Lockport
Basingers Lockport Pharmacy*
Corwin Lockport Pharmacy*
Lombard
Lombard Pharmacy*
Markham
Harvey Health Center Pharmacy*
Melrose Park
Melrose Pharmacy*
Morris
Morris Family Discount Drug
Mount Carmel
Buehkers Pharmacy
Naperville
Naperville Pharmacy*
Norridge
Medicine Shoppe Pharmacy
Oak Lawn
Barcus Pharmacy*
Olney
Bowers Drug Store
Orion
Orion Pharmacy
Ridgway
Skaggs-Reeder Drugs*
Rockford
Nihan & Martin Inc.
Roseville
Axline Drug Store
Salem
Medicine Shoppe Pharmacy*
Sauk Village
Consumer Pharmacy
Schaumburg
Moon Lake Pharmacy*
Shelbyville
Medical Center Pharmacy
Silvis
Illinois Clinic Pharmacy*
Springfield
Medicine Shoppe Pharmacy*
St. Charles
Burger Drugs*
West Frankfort
Union Pharmacy
[News release from the governor's office]