Logan County officials discuss comprehensive plan

Send a link to a friend
[APRIL 8, 2005] A new, updated comprehensive plan is at the forefront of plans the Logan County Regional Planning Commission is working on. During Wednesday evening's meeting chairman Bill Glaze brought up one option in the plans redevelopment.
Glaze, county engineer Tom Hickman and regional planning director Phil Mahler went to see McLean County regional planner Paul Russell, who developed the McLean County comprehensive plan. The McLean County has a staff of six that work on GIS and the comprehensive plan. Russell had a lot of good advice that will help get the job done and save some funds while doing it, Glaze said.

Glaze thinks that it would be better to work with someone who knows what he is doing. He said he asked Russell if he would be willing to work with us. Russell is a practicing planner and certified to do this work.

Russell made a proposal for the work to be done. He would not just consult, he would be doing the work too. His fee would be $65,000 and includes the following:
Comprehensive plan.
Help develop information.
Schedule and attend meetings.
Schedule and facilitate public hearing.
Help develop the "Executive Summary" intended for developers and marketing distribution.
Print copy.
Hickman, who is working on the geographic information system for the county, lent his support to Russell's proposal. "I think the proposal is very reasonable," Hickman said. "He's a professional and it would be good with another government entity."
Whether Russell does the work or not, he recommends doing the individual community plans for them, rather than on their own, as well as the entire county plan. This would include Atlanta, Lincoln, Mount Pulaski and Elkhart. The consolidated fashion would create savings in everyone's funds.
Critical in the comprehensive plan is zoning and land use. The USDA has a soil reclassification study in process that affects land use. Indexes and ground slope factor into the reformulated assessment equations. The soil reclassification will be used for the land-use map and the land use fits into parcel mapping. That information may be available this summer or fall. "It all ties together," Hickman said.
[to top of second column in this article]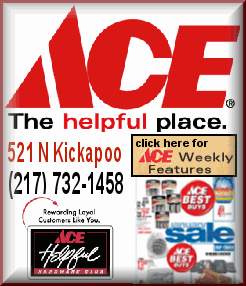 Greenways will also be factored into the comprehensive plan, and they are also influenced by the soil reclassification. Greenways are property set aside for recreational purposes. This includes future bicycle and walking trails. The counties north and south of us, Sangamon and McLean, have would like to see us take advantage of Illinois Department of Natural Resources funding intended for the development of these trails. It would connect the counties.
There is a statewide initiative to run these trails from northern Illinois to St. Louis along Route 66.
Funding is the main issue. Glaze, who serves as Mount Pulaski mayor, said he has met with Mayors Beth Davis in Lincoln, Bill Martin in Atlanta and Dayle Eldridge in Elkhart in regard to funding.
Some contributions have been offered from private entities. The amount of funds that will be sought from the cities and county needs to be set.
To accept the proposal, "It must be decided and done in the right way," Glaze said.
Related link